Indian Consul General praises Al Maya Supermarket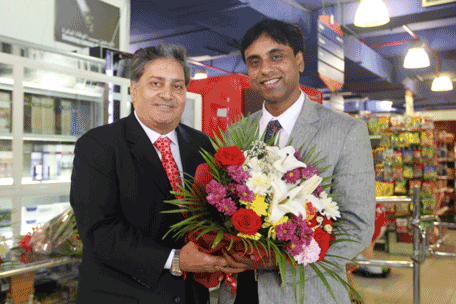 Indian Consul General in Dubai H.E. Mr Anurag Bhushan appreciated the efforts of Al Maya Group for promoting Indian products in the UAE during his visit to Al Maya Supermarket at Murooj Complex on Monday in Dubai.

The group operates 33 supermarkets in the UAE across Dubai, Sharjah, Ajman, Al Ain and Abu Dhabi. Non-Resident Indians (NRIs) in the UAE feel like at home as we have a large variety of Indian products available at our outlets in the UAE, Mr Kamal Vachani, Group Director, Al Maya Group, said.
Vachani thanked H.E. Mr Anurag Bhushan for visiting Al Maya Supermarket. Anurag Bhushan took charge as the new consul general in Dubai on December 28, 2013.

Indian Consul General, H.E. Mr Anurag Bhushan lauded the efforts taken by the Al Maya Group in bringing FMCG products from India and wished Al Maya Group all the best and anticipated that the AL Maya Group introduces more and more new Indian products to cater to all the communities and Indians in particular. Some of the Indian ranges distributed by Al Maya Group are Society Tea, Indian Star Rice, MTR, Govardhan Ghee, Indo Nissin Noodles, Horlicks biscuits, Bikano, etc. informed Mr Kamal Vachani. We have over 200 items in our own brand MAYA's in Nuts, Oil, Disposables, Sugar, Pulses, Dishwash, Spices, Tissues, Can Food, Bleach, Ketchup, Rice and Frozen items which have very well accepted by the customers added Mr Kamal Vachani.
Follow Emirates 24|7 on Google News.