Maritime sector still in distress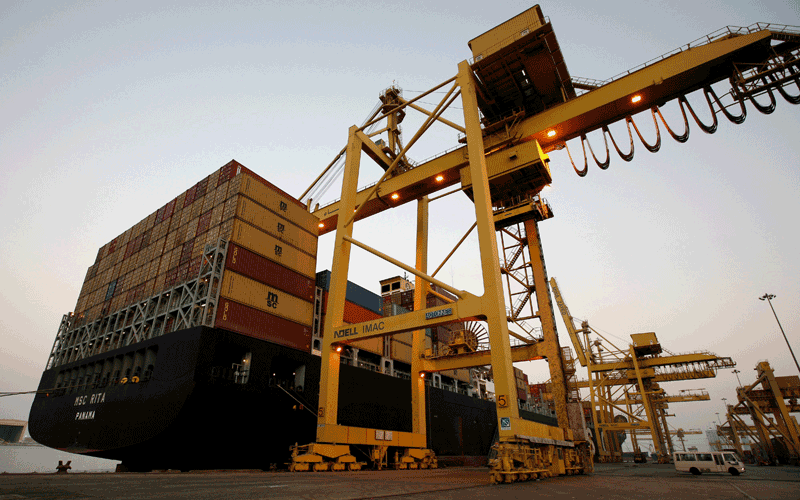 The maritime and shipping industry is brazing itself in anticipation that 2011 will remain a weak year.
"Maritime is still distressed," Henrik O. Madsen, CEO of DNV, a leading classification firm, said. "2011 will be bad but we hope 2012 will be better. We have to wait till 2013-2014 for things to normalise. I'm not very optimistic for 2011 in the maritime sector."
Capt. S. R . Patnaik, chief operating officer at Dubai-based International Shipping & Logistics FZE (ISL) said trade has not yet picked up to healthy levels.
"We all know in the shipping industry that 2011 will not be a good year," he said. "2009 was definitely bad and 2010 remains volatile. China has not picked up that much and the US is still in a bad shape and these are the two biggest trading countries in the world."
Despite the negative outlook, the subsidiary of India's TM International Logistics, plans to order two new handymax in the first quarter of this year, marking the Dubai-based firm's entry in the shipowning business.
The two newbuilds, worth $50 million-$55 million, is slated for delivery in 2012. The company also mulls an orderbook of three more vessels over the next three to five years.
Currently, the Middle East has a fleet of 2,040 vessels with combined deadweight tonnage (dwt) of 57.3 million. The region has an orderbook of 233 ships or 11 per cent of the current fleet. In terms of tonnage, the Middle East is slated to take delivery of 21 million dwt over the next two years or 37 per cent of today's capacity.
The UAE tops the list with 107 orders on top of its 679 fleet followed by Iran with 64 on top of its 329 fleet. Tonnage-wise, the UAE will see a 40 per cent incremental growth from 16.7 million dwt to 23 million dwt while Iran is set to increase tonnage capacity by 34 per cent from 16.8 million dwt to 22.5 million dwt.
Despite these large orders, the Middle East's shipping sector is unlikely to see a glut in supply, the CEO of Gulf Navigation Holding, said.
"I have no fear whatsoever… any ship today where the keel has not yet been put down is being renegotiated" Per Wistoft, said, noting that a string of cancellations and delays will spread out the delivery dates over the next two to three years.
"Over the past year, we have seen demand improving. However, the continued introduction of capacity implies some short-term volatility, but in the medium to long term, the outlook of the shipping industry is positive," Woon Khoon Kee, global head of structured finance, Standard Chartered Bank, said.
A number of Gulf companies have dropped high priced orders made in the boom years. Last year, Gulf Navigation cancelled orders for two chemical tankers with SLS and was repaid $70 million while in September, the NSCSA subsidiary National Chemical Carriers cancelled a deal to build five tankers and recouped $95 million.
United Arab Shipping Company (UASC) has delayed the delivery of its $1.4 billion orderbook by one year to ease up cash flow, the company's chief operating officer, said.
Under the Kuwait-headquartered shipowner's original plan, nine A13-type container vessels, each with a capacity of 13,100 TEU from Samsung Heavy Industries shipyard in South Korea, will be delivered this year. But due to credit squeeze and weak global trade, delivery is deferred till 2012.
"First ship will come in Apr 2011 but the balance will come in 2012," Waleed Al Dawood said. "He said obtaining funding proved difficult since the wake of the recession with banks lending only 60 per cent of the market value and not of the contract price.
"This is an issue because market price dropped by at least 30 per cent," Al Dawood said, noting that shipbuilders' reluctance to renegotiate the price has added to the shipowners' burden.
"The idea of cooperation to some extent doesn't exist in this industry," he told an industry conference in Dubai. "They wish for the money as per the contract. We understand that but the point is – does the shipowner have the money? The recognition in that part was delayed."
"At the end of the day we were able to postpone the delivery from 2011 to 2012 and that gave us a breather on the cashflow," he added.
In February, UASC said it concluded a multi-currency $275 million term loan facility on a 'club deal' basis with Qatar National Bank, Burgan Bank, Commercial Bank of Qatar, Doha Bank, Al Khaliji Commercial Bank and BNP Paribas. But that was only 13 per cent of its total funding needs.
Come April and only less than $87 million was closed.
"In container shipping it's not only the ship that is costing you the money," he explained. "For the 13 vessels, we needed $1.4 billion for the ship and $600 million for other expenses. Here you are talking about $2 billion in one sling. However, the return on investment is low so there is an imbalance in the cashflow equation between investment and ROI."
To fill in the funding gap, UASC's shareholders decided to more than double their capital from $1 billion in 2008 to $2.47 billion in 2010. The 34-year old company has six shareholders – Qatar (24.8 per cent), Saudi Arabia (24.8 per cent), Kuwait (20.3 per cent), Iraq (20.3 per cent), UAE (8.2 per cent) and Bahrain (1.5 per cent).
"Because the banks shied away from financing the new orders, the shareholders have to put their money," he said. "When our first payment worth $300 million came near, the first question was should we walk away from $300 million with the onus of further compensation or shareholders will instead inject more money? They did."
Despite the volatile global economy, Al Dawood is positive that the industry has touched the bottom. "There is no way we'll go further down. It's impossible. There's nowhere to go but up."
The company is now forecasting more than 20 per cent year-on-year growth over the next five years. Al Dawood said UASC is on track to increase capacity by 37 per cent from 1.17 million (TEU) in 2009 to 1.6 million this year. And with new vessels coming online, the capacity will further go up to 2 million TEU in 2011, 2.7 million in 2012 and 3.6 million TEU in 2013.
The company is also planning for another phase of expansion. "We have a plan for another expansion, so we will continuously look for financing because this is a very capital-extensive industry," Al Dawood said.
Today, the ability to raise financing or re-financing still depends on the situation of each individual ship owner, Kee said. "While Chinese Banks are becoming very active in ship financing and have begun financing shipowners in the Middle East, the financing gap still exists and operators in the region will continue to find it challenging."
Currently, bankers – especially local and regional ones – remain reluctant to lend. Wistoft said the wide pricing gap between local and international interest rates makes it less appealing for local banks to lend to shipping firms and vice versa.
"It's much more interesting for a local bank to lend locally on a house mortgage to where he can get 6 per cent," he said.
The region is also busy financing its own financial problems. "In the last two years, pre-2009, we saw an increasing appetite in ship finance but at the moment we see less. Why? Because they are busy with local issues like retail and real estate," Wistoft said.
Tapping the much-talked Islamic finance has also not been easy. "We, as a company, has a clear requirement to do financing that is Shariah-compliant but we cannot find someone to deliver a price that is competitive," he said.
But there's always some exception to the general trend.
Kuwait Oil Tanker Company (KOTC) is in a comfortable cash position and has earmarked $1.6 billion in an aim to boost its fleet size by 76 per cent and capacity by 65 per cent over the next three years.
The first batch of orders, worth $850 million, was placed with Daewoo and comprises four VLCCs and two Aframaxex. The first vessel was delivered on Oct 28 with rest scheduled for delivery before the end of this year.
"We will have receiving all the tankers in 2012," KOTC chairman and managing director Nabil Bourisli said.
The second batch, worth $750 million and comprises 10 medium range (MR) crude carriers, is set to be tendered in the first quarter of next year for delivery in 2013.
"It is under the planning process," Bourisli said. "We expect to sign the contracts by June 2011 and receive them by 2013."
According to local media report, KOTC has already completed a tender for the third phase of its fleet development project and will award the deals in May.
KOTC has a current fleet of 21 vessels with 3.4 million TEU. The VLCC orders will add 1.4 million TEU while the MR crude carriers are slated to have 800,000 to 1 million TEU capacity.
Although banks remain reluctant to lend, Boursili is confident the state will finance all its requirements. "All our needs are financed by our parent, Kuwait Petroleum Corporation, so there is no need to access the banks."
KOTC's expansion drive is buoyed by Kuwait's optimism that the growing oil demand will fuel the need for more crude carriers in the mid and long-term. Boursili said Opec's forecast of nominal price of oil at $75-85 per barrel until 2020, reaching $106 per barrel by 2030 is backed up by strong fundamentals.
"The worst case scenario is past us and the present fundamentals are strong enough to support the oil price," he said. As per Opec's latest forecast, average annual oil demand will increase by .9 per cent per year or 1 million barrels per day (mbpd) in volume terms - more than double of that expected in the 2009 reference case.
Follow Emirates 24|7 on Google News.