Meydan, IDBI sign financing deal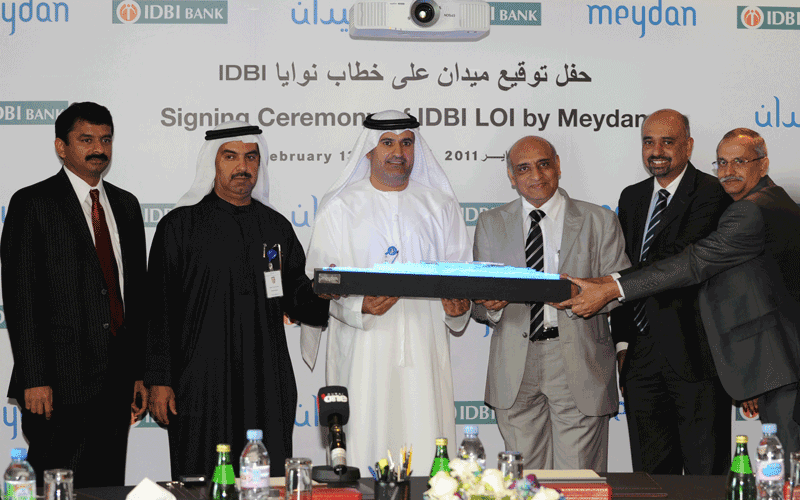 Meydan, an ultimate venue for horseracing and also an integrated city, on Sunday announced that it had signed a financing deal with Industrial Development Bank of India's (IDBI) DIFC branch marking the beginning of a relationship between both parties.
IDBI Bank is India's leading provider of project and infrastructure financing. Headquartered in Mumbai, India's financial capital, IDBI Bank is one of the largest commercial banks in India with 65 per cent of the Bank's equity shares owned by the Government. With its vast experience in project and infrastructure financing in India, IDBI Bank has forayed into such financing overseas.
A Meydan spokeswoman refused to provide further details on the agreement.
IDBI's DIFC branch is the bank's first overseas branch. The bank's decision to set up an office in Dubai demonstrates its belief in the significant growth potential in the GCC region and the UAE in particular. Through the DIFC branch, IDBI Bank seeks to integrate the business interest of the Indian and UAE business communities for long term mutual benefit.
Saeed Humaid Al Tayer, Chairman of the Board and CEO of Meydan, said: "We are pleased to announce this association with IDBI Bank. They are widely respected for their investment acumen and we look forward to how this shared vision gives shape to Meydan's future business objectives.
Their confidence in Meydan is indeed gratifying. As one of India's leading banks, IDBI Bank is well poised to facilitate greater investment symbiosis between the UAE and India.
We certainly look forward to the mutually advantageous opportunities that this association will deliver".
BP Singh, Deputy Managing Director of IDBI Bank, said: "We believe that the MENASA Region has considerable growth potential and our presence in Dubai through the DIFC branch will offer significant business opportunities. Apart from being a hub for the bank's regional operations, the DIFC branch serves as IDBI Bank's nodal point for raising foreign currency resources from the Asian, European and US Markets. On this occasion, IDBI Bank confirmed extending financial assistance to Meydan's signature project in UAE. IDBI Bank attaches great importance to support such a major infrastructure project, the largest by IDBI Bank in the region. IDBI Bank looks forward to financing other such landmark infrastructure projects which will be a catalyst to growth and development of the GCC region and UAE in particular".
Follow Emirates 24|7 on Google News.