Meydan sells 8m sqft land to Sobha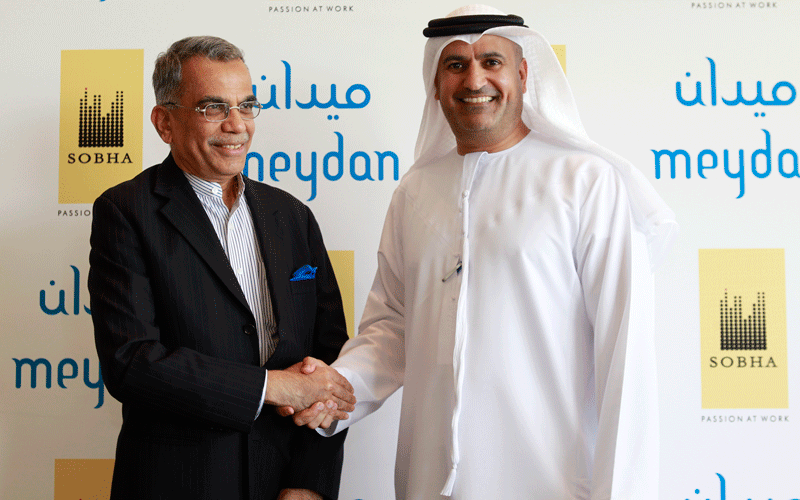 Meydan Group, the developers of Meydan City, said on Monday that it had sold a large tract of land adjacent to the project's Godolphin Parks area to the Sobha Group for an undisclosed amount.
The land sales will total approximately 8 million square feet, and represents the largest sale of Meydan City offerings to date.
This strategic relationship by PNC Menon's Sobha Group will provide a long-term commitment to development in Dubai.
The land area, to be developed by the Sobha Group, will carry the project title of "Sobha City" and will be located adjacent to Meydan Godolphin Parks, one of the four sub-districts of Meydan City situated along Al Khahil Road.
Saeed H. Al Tayer, Chairman of Meydan Group, said: "This is a pivotal step in the overall development of Meydan City and we are pleased to forge this relationship with the Sobha Group. This investment and the commitment of Mr. PNC Menon is an indication of the international confidence in Dubai and its significant infrastructure. Under his leadership, Sobha Group has achieved an impressive record of success and creativity. Their commitment to quality and innovation complements the goals for Meydan City and all of Dubai. We are pleased to welcome Sobha Developers as we welcome a new era of development for Meydan and Dubai."
PNC Menon, Chairman of the Sobha Group, said: "I have always believed in Dubai and even during the most trying times of the recent past, I have always believed in the future of Dubai. Dubai is one of the greatest international cities of the world. If we travel from London eastwards, right up to Singapore, there is no other International City like Dubai. The quality of infrastructure created here is second to none. The vision and care of Highness Sheikh Mohammed bin Rashid Al Maktoum, Vice President and Prime Minister of UAE and Ruler of Dubai, gives us only more strength and comfort. This is why Sobha is pleased today to announce this association with the Meydan Group and is very excited about the same."
Follow Emirates 24|7 on Google News.