Ministry of Economy signs MoU with Dubai Industrial City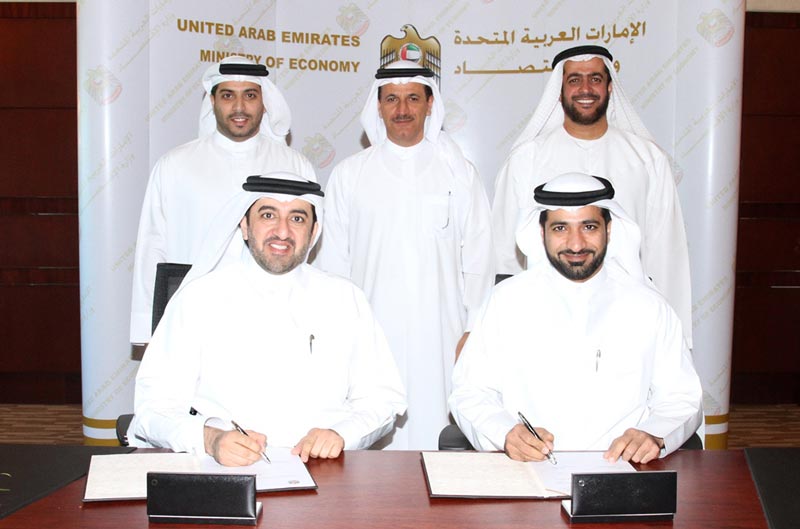 The UAE Ministry of Economy has signed a Memorandum of Understanding (MoU) with Dubai Industrial City on mutual co-operation to develop industries in the country.

The MoU aims to exchange information and visits, hold joint workshops and events, and organise annual meetings with Dubai Industrial City to address the production and export obstacles and to enhance the role of the private sector in the country's growth.

The MoU, signed by Mohammed bin Abdulazziz Al Shihhi, Director General of Ministry of Economy, and Abdullah Belhoul, Managing Director of Dubai Industrial City, aims to strengthen cooperation to develop industries according to the MoE's strategy and the vision of Sheikh Khalifa Government Excellence Program (SKGEP).

Sultan bin Saeed Al Mansoori, UAE Minister of Economy, said the industrial sector played a key role in driving the country's economy, and asserted the MoE's keenness to strengthen the sector in line with the UAE Vision 2021 which aims to build a knowledge-based economy and encourage small and medium enterprises.

Speaking during the signing of a memorandum of understanding (MoU) between the ministry and Dubai Industrial City, Al Mansoori pointed out the country had adopted a growth strategy based on supporting industries and attracting more foreign and local investments to this sector to increase its contribution to the Gross Domestic Product (GDP) and reduce the dependence on oil as a source of national income.

Al Mansoori said manufacturing industries contributed 9.1 per cent to the GDP in 2011 with the volume of the industry sector increasing from Dh72.635 billion in 2007 to Dh114.052 billion in 2011. He noted that 5,201 industrial companies and facilities were registered, employing more than 399,000 workers.

Abdullah Belhoul, managing director of Dubai Industrial City, a member of TECOM Investments, said the MoU reflected the vital role played by the ministry in developing the private sector. The signing of the MoU was a key part of the joint efforts of the ministry and Dubai Industrial City to encourage the inflow of investments as part of Vision 2030 goals to diversify the sources of income, he added.

Belhoul said this initiative stems from Dubai Industrial City's strategy to strengthen cooperation with the public sector to achieve the aspiration of the partners in Dubai Industrial City, and enhance the competitiveness of factories operating in DIC.

Al Shihhi said the MoE was committed to increasing cooperation with the private sector to drive the economic diversification process and improve the business and investment environment in line with Vision 2021 and MoE's strategy for 2011-2013.

Follow Emirates 24|7 on Google News.