New brand of coconut water to flood Gulf non-carbonated beverages market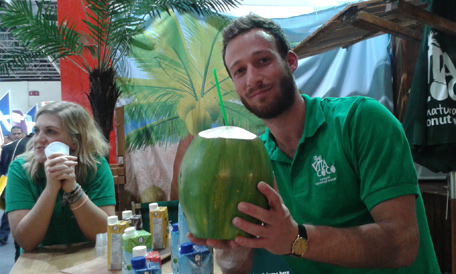 The beverages market in the Gulf is flooded with several brands of juices, carbonated drinks and colas.
Now, coconut water, said to be one of the most nutritious and natural drink sin the world, is coming to the already overcrowded market.
Posing a major challenge to tender coconut traders who source the natural drink from Salalah and other places, Vitacoco, a US-based company, said it will flood the UAE market with its natural coconut water very soon and plans to expand its operations to Asian countries currently growing coconuts.
"We will be launching our coconut water in the UAE market within a couple of months.
"It is not only 100 per cent natural, with zero fat and low calorie, but out coconut water packed from Brazil will be competing with the real tender coconuts available in the market," said Coconut Joe, alias Joe Benn, a senior business development manager for the London-based company, which controls a major chunk of the market for coconut drinks in the USA and the UK markets.
He says there are about 50 brands of coconut water brands in the USA.
A 300ml packet will be sold for Dh8 in the UAE market, he said.
He claims that the Vita Coco Coconut water is free from concentrates, artificial colouring or flavours.
"We are sourcing our coconuts from Brazil and plan to tap the natural water from other Asian countries where coconut is grown. We currently don't have operations in India, but would wish to expand there. Coconut is grown in Asian countries like Sri Lanka, the Philippines, Malaysia etc and we have our presence in some of these countries," Coconut Joe added, displaying the products at the Gulf food Exhibition.
Follow Emirates 24|7 on Google News.