New Dubai healthcare group to invest $100m, hire 200 staff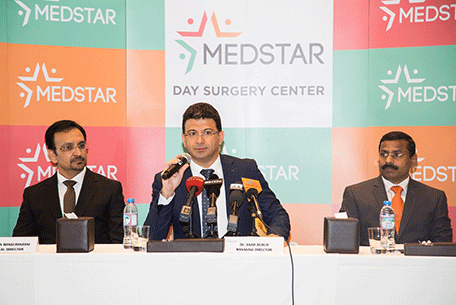 A new healthcare group in Dubai has invested around Dh30 million and plans to invest another Dh367 million across the UAE to establish new healthcare centres.
Dr. Sajid Burud, Managing Director of Medstar Day Surgery Centre in Dubai Healthcare City, said the group has allocated $100 million (Dh367 million) for new facilities in Northern Emirates and Western Region of the UAE and plans to open three centres in the same number of years.
"We are healthcare professionals and also have a group of investors from UK, South Africa and Europe. We have opened our first facility in Dubai and plans to have Sharjah facility operational later this year which is approximately 20,000 square feet. We are looking at Kuwait and Oman in 2017-18. We are already in disucssoin with partners there," Dr. Burud said on the lines of the press conference to announce the opening of the group's first facility in Dubai.
The DHCC facility, which is also spread over 20,000 square feet, currently has over 50 staff and will add approximately twenty more.
According to Dr. Burud, the group will be recruiting approximately 200 employees for the upcoming three facilities planned across UAE with around 60-70 for each unit. "We are looking at 20-30 doctors in our panel in the next two to three months for the Dubai facility."
The group will be hiring admin staff, nurses, doctors and paramedics.
Medstar Day Surgery Centre provides surgery and healthcare for patients without the requirement of hospitalisation or over-night stay. It has adopted the emerging model of developed countries – day care surgery with outpatient consultation.
Follow Emirates 24|7 on Google News.