Noor Islamic Bank rebrands as Noor Bank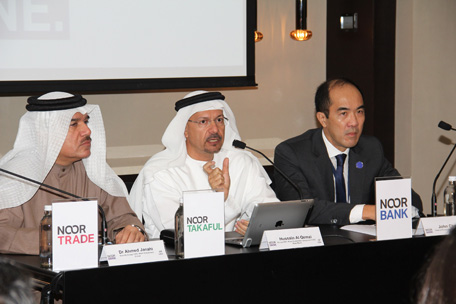 Noor Islamic Bank said on Tuesday it has re-branded as Noor Bank with the aim to change the face of customer service in the UAE financial sector.
The bank now has a tagline, "Noor gets it done", an expression that it has espoused from the masses who gaze at Burj Khalifa, the world's tallest tower, and Dubai's emphatic win to host Expo 2020 and exclaim, "Dubai gets it done" ‑ a testimony of Dubai's success and getting things done.
"When people look at Burj Khalifa and Expo 2020 win… they say Dubai gets it done… while other banks talk, Noor gets it done," Hussian Al Qemzi, Chief Executive Officer, Noor Bank, said.
Noor Bank, however, took a two-year extensive study to finalise its rebranding process, which the CEO says will be unleashed with a massive advertising campaigns.
"Following a study over the last two years, we found that many of our customers already refer to us as Noor Bank… and this rebranding makes our name direct, simple and easy," he added.
In October last year, a poll conducted by Souqalmal.com, a Dubai-based financial comparison website, found banks in the UAE were missing out on potential growth that comes through the power of customer recommendations.
The poll found that only one in 10 customers would actually consider recommending their bank to friends and family, revealing Noor Islamic Bank had the highest rate of recommendations from its customers, followed by Emirates NBD.
Another study released last year found more than half of the UAE population want to switch to a better bank after suffering poor customer service with poor customer service and high transaction fees as key reasons for consumers wanting to make the switch.
He added that the bank will focus on trade business, retail and consumer business for diversification and extending its reach among the masses. He, however, ruled out plans for an initial public offering.
In a statement released later, Sheikh Ahmed bin Saeed Al Maktoum, Chairman of Noor Investment Group, said: "I would like to thank all the stakeholders for the support extended to Noor Bank during the last six successful years of its operations. Noor is an integral part of the vision of His Highness Sheikh Mohammed bin Rashid Al Maktoum, Vice President and Prime Minister of the UAE and Ruler of Dubai, to make Dubai the capital of the global Islamic economy. Dubai is committed to supporting the future growth and success of Noor Bank."
In terms of business expansion, Noor Bank will continue to focus on Gulf Cooperation Council countries, South East Asia and Turkey, but not was not interested in London.
Experts believe that Dubai is in a position to vie with London to become the world's Islamic finance hub in 2014 following an announcement in 2013 by the Dubai government to turn the emirate into a global centre of Islamic economy.
Although London has been nurturing the ambition of becoming the western hub of Islamic finance, when asked if the bank would focus on London, Al Qemzi asserted: "We are not interested in London."
The new logo of Noor Bank, which was launched in 2008, will be used across its others companies such as Noor Takaful, Noor Trade and Noor Awqaf. All credit and debit cards will also be rebranded.
Follow Emirates 24|7 on Google News.