Rakia licence issuance up 27%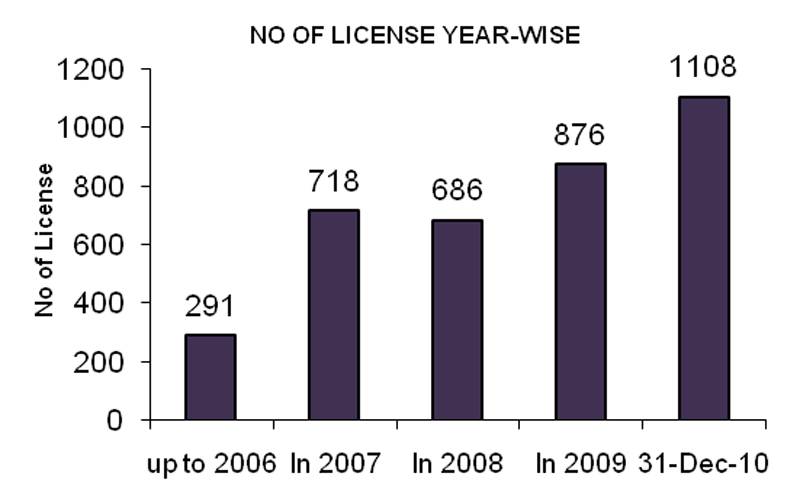 In 2010, Ras Al Khaimah Investment Authority (Rakia) issued 1,108 licences, a rise of 27 per cent from 2009 and 62 per cent compared to 2008.
There are now 3,679 business licences issued by Rakia since 2006, broken into 1,042 consulting/service companies, 1,028 trading/general trading businesses, 659 commercial companies and 628 industrial firms and 322 media businesses.
Rakia has also reported a 190 per cent increase in the total area of land leased, reaching more than 1 million square meters in 2010 from just 353,046 square metres in 2009.

Further, the industrial sector scored the biggest gains in 2010 with a 65 per cent increase in industrial licences compared to 2009. In total, there were 93 industrial licences issued last year, along with 85 commercial licences, 370 consulting/service licences, 494 trading/general trading licences and 66 media licences.
With regard to the geographic distribution of investors, Indian investors dominate with 27 per cent of the total number of businesses/companies registered with Rakia followed by investors from the Middle East with 19 per cent and Europe with 19 per cent. Investors from the UAE account for 15 per cent of the business licenses issued, 9 per cent are from the rest of Asia, 3 per cent are from the USA and 2 per cent are from Russia and the CIS.
Rakia is increasingly focusing its attention on investors from key markets such as Europe and India. In this regard it will continue with its plan of organising and participating in various investment-related conferences, seminars and events.
The latest statistics were revealed by Rakia during the signing on Monday of a memorandum of understanding (MoU) with HSBC, which will open a complete range of banking and financial services for companies operating in Ras Al Khaimah.
A recent survey by HSBC showed that whilst 47 per cent of UAE small and medium businesses are currently engaged in international business activities, this number is set to rise to 58 per cent by 2013. Free Zones continue to offer attractive services and logistical support for companies looking to expand their cross border business, and offer a natural home for SMEs interested in establishing a base in the Emirates.
Follow Emirates 24|7 on Google News.