Sharjah Businesswomen Council initiative to fund Emirati, expat entrepreneurs' ventures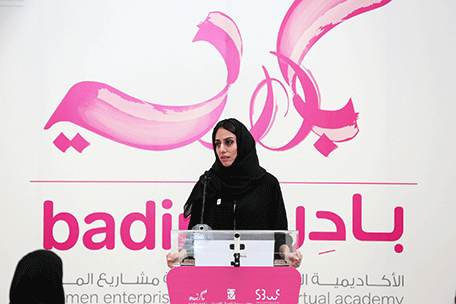 The Sharjah Businesswomen Council (SBWC) has launched an initiative to help the UAE-based female entrepreneurs – both the locals and expats – by providing by financial and other support.
The first of its kind initiative called 'Badiri' Women Enterprise Development Virtual Academy, the platform will provide resources, training and support to enable them to launch their own businesses as well as hone their business skills.
Launched under the directives of Sheikha Jawaher bint Mohammed Al Qasimi, Chairperson of 'nama' Women's Advancement Establishment, Founder and Honorary Patron of SBWC, 'Badiri' Women Enterprise Development Virtual Academy is an electronic platform that uses online applications along with practical and interactive training and tailored online workshops and sessions delivered by business experts to support women in launching their business or expanding their existing ones.
The launching ceremony was attended by Ameera BinKaram, Deputy Chairperson of "Nama" Women Advancement Establishment, Chairperson of Sharjah Business Woman Council (SBWC); Shadi Banna, CEO of 'Potential', Farida Abdulla Kamber Al Awadhi, First-Deputy Chairperson of the Emirates Business Women Council (EBWC), Dr. Zanubia Shams, UAE national Entrepreneur, Co-Founder of 'Just Falafel' restaurants and 'Just Heaven' Nursery and Chief Executive Officer of 'Zulekha Healthcare Group', Hala Al Gergawi, Executive Managing Editor of 'Zahrat Al Khaleej' Magazine, Editor in Chief of Ana Zahra, and Raghda Taryam, Board member of Sharjah Chambers of Commerce and Industry and a number of community ladies, entrepreneurs, female graduates and local media representatives were present in the press conference.
Ameera BinKaram said 'Badiri' initiative is a bilingual platform to support and develop entrepreneurial ideas among Emirati girls and women to start their own businesses and become successful entrepreneurs, and to provide current and aspiring entrepreneurs with resources and training through interactive courses and workshops in English and in Arabic. It will also allow participants and trainees to meet, network and cooperate with each other in order to start, develop and expand their businesses.
Participants can register through SBWC's website and the programme is open to women of all nationalities and over 18 years of age.
The program is three-month long and will include lectures, audio-visual presentations and other interactive sessions and E-learning methods with continuous supervision. There will also be a competition at the end of each training phase and the winner will be provided with expert support from an elite group of trainers and business consultants to launch her project."
Follow Emirates 24|7 on Google News.