Sharjah gets first electric vehicle charging stations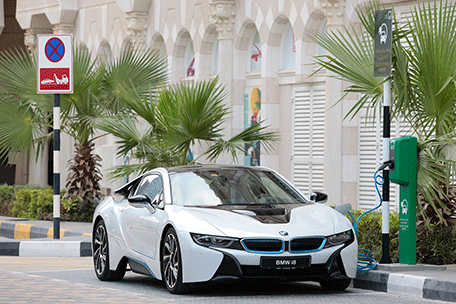 Sharjah opened its first electric vehicle (EV) charging stations on Tuesday at Al Qasba.
Launched by the Sharjah Investment and Development Authority (Shurooq), the new facilities form part of the emirate's green parking initiative to promote a sustainable ecosystem in the emirate.
Led by Dewa and RTA, Dubai has already introduced EV charging stations across the emirate due to a large number of electric vehicles plying on the roads by the different departments of the emirate.
"The launch of green parking in Al Qasba through the establishment of two charging stations for electric cars is a significant boost to Sharjah government's efforts of adopting more sustainable methods and advancing the emirate's status as an eco-friendly city. As electric vehicles become more and more established moving forwards, we anticipate that the number of charging stations will increase correspondingly in the emirate, with additional stations being installed at Al Qasba as required," said Sultan Mohammed Shattaf, Manager of Al Qasba.
As part of the official inauguration ceremony for the two new electric vehicle stations at Al Qasba and to demonstrate their effectiveness, a pair of BMW electric cars - BMW i8 - were installed at the two lots in Al Qasba's car park, one located in Block A and the other in Block D, to showcase the recharging technique.
Follow Emirates 24|7 on Google News.