Sharjah to build Expo Hotel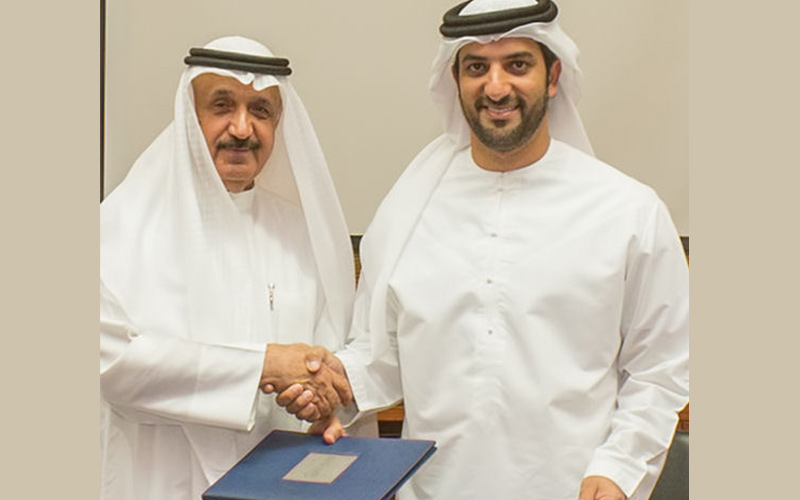 United Investment and Sharjah Chamber of Commerce and Industry (SCCI) have signed an agreement to build a hotel named Expo Hotel Sharjah at a cost of more than Dh100 million with the aim of serving the emirate's various sectors and participants in the Expo Centre's numerous events.
The agreement was signed by Sheikh Sultan bin Ahmed Al Qassimi, who represented United Investment, and Ahmed Al Midfaa, Chairman of SCCI, in the presence of members of the SCCI's Board of Directors, Hussain Al Mahmoudi, Director General of SCCI, and Khalifa Al Shaibani, Director General of United Investment.
Sheikh Sultan bin Ahmed Al Qassimi stressed the importance of this project, which comes in implementation of the directives of His Highness Sheikh Dr. Sultan bin Muhammad Al Qasimi, UAE Supreme Council Member and Ruler of Sharjah, to build service facilities for the Expo Centre Sharjah.
The first of its kind in Sharjah, the 200-room hotel, according to Sheikh Sultan bin Ahmed Al Qassimi, will be constructed to the highest standards and will serve touristic and economic purposes in the emirate.
For his part, Ahmed Al Midfaa emphasised the importance of the partnership between United Investment and SCCI, noting that it would culminate in the addition of another landmark to Sharjah's many touristic and economic landmarks, which are all aimed at the service of the emirate's residents and visitors.
He pointed out that the project translated the great success of the events that had been held in Sharjah, whether in the Expo Centre Sharjah or in other places, attracting participants and visitors from all over the world.
Also affirming the significance of the Expo Hotel Sharjah, Khalifa Al Shaibani indicated that the details of the project would be revealed during the Arabian Travel Market in Dubai before working on the project would begin.
He added that the hotel, which will be vitally located near the Expo Centre Sharjah, would add a touristic value to the emirate and be part of an integrated system of services aimed at further enhancing the bright image of Sharjah across the world.
Follow Emirates 24|7 on Google News.