Sheikh Mohammed tours Arab Health Exhibition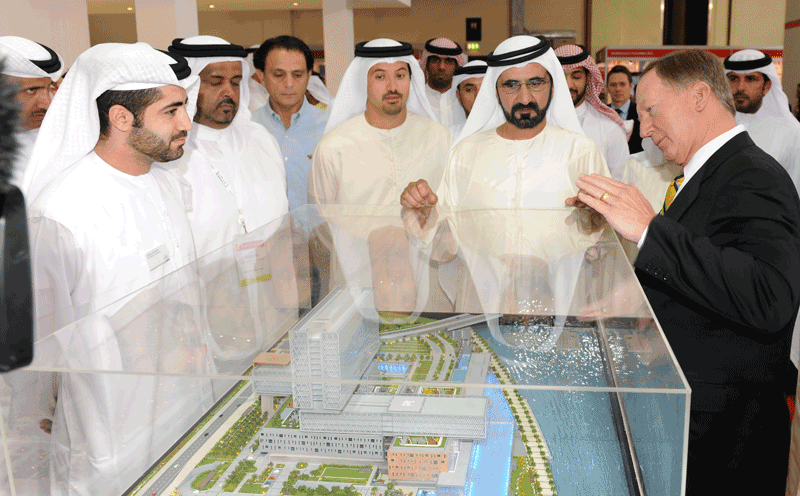 His Highness Sheikh Mohammed bin Rashid Al Maktoum, Vice-President and Prime Minister of the UAE and Ruler of Dubai, on Wednesday toured the 36th Arab Health Exhibition - the world's second largest gathering of medical and healthcare professionals.
Sheikh Mohammed tours Arab Health Exhibition
Accompanying Sheikh Mohammed on his inspection visit at the Dubai International Convention Center were Director of Dubai Ruler's Court Mohammed Ibrahim Al Shebani, Director General of Dubai Health Authority Qadhi Saeed Al Murooshid, Dubai Director of Protocol and Hospitality Khalifa Saeed Suleiman and CEO of Dubai World trade Center Hilal Saeed Al Marri.
During his visit Sheikh Mohammed toured the exhibition's various sections, including the pavilions from Germany, France and Japan which are showcasing the latest medical equipment and technology.
Undersecretary at the Ministry of Health for External Relations and International Health Affairs Nasser Khalifa B'dour briefed Sheikh Mohammed on the event, noting that the exhibition continues to grow with the number of exhibitors reaching 2,800, representing over 60 countries.
The undersecretary added that many of the trade fair's 70,000 visitors took advantage of Dubai Metro's facilities in commuting between their residences and the exhibition center.
Stopping at the Ministry of Health, Sheikh Mohammed was briefed on the department's migration to an electronic filing system and other upcoming developments at hospitals and healthcare facilities around the country. He also toured the pavilion at the Dubai Health Authority, where he learned from its Director General about progress there.
Sheikh Mohammed praised the strong participation in the event from the UAE's national institutions and companies, stressing the importance of the exhibition in re-energising the domestic market and promoting the country's culture and tourism highlights to foreign visitors.
Aside from its commercial significance, Sheikh Mohammed said that the trade fair also serves to disseminate medical knowledge and research, thus enhancing the health sector in the region and beyond.
Follow Emirates 24|7 on Google News.