Spot Saudi riyal back near dollar peg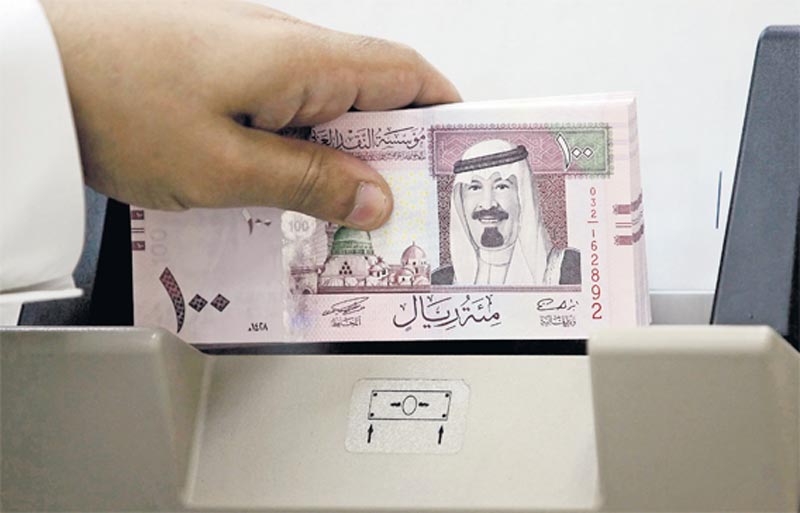 The Saudi Arabian riyal has moved back to very near its peg against the U.S. dollar in the spot market after a recovery in local equities prices reduced fund outflows, traders said.

The dollar/riyal rate had climbed in recent weeks as high as 3.7605 - its highest level since January 2010, when markets were in the grip of the global financial crisis. The Saudi central bank maintains a peg of 3.75 against the dollar and in the previous several years, the rate had never moved beyond 3.7510.

Traders attributed the spot market volatility to the plunge of the Saudi stock market, which sank more than 35 per cent between September and mid-December as the slide of global oil prices dragged down petrochemical stocks in particular.

Foreign and Gulf investors in Saudi equities moved some of their money out of the country, putting unusually heavy pressure on the riyal spot rate. Before the crash, foreigners were believed to hold several percent of the Saudi market's capitalisation, which is now about $530 billion.

In the last several weeks, however, the stock market has recovered sharply as oil prices have regained some strength and the government's budget plans have shown it is willing to use its huge fiscal reserves to keep state spending high despite cheap oil. The Saudi stock index has jumped 11 per cent in the past two weeks.

The bourse's recovery has halted heavy capital outflows from Saudi Arabia and encouraged some inflows, the traders said. A monthly Reuters survey of Middle East fund managers, published at the end of January, showed them turning positive on Saudi Arabia.

Forty per cent expected to increase their Saudi equity allocations over the next three months while none expected to reduce them - a big shift from the December survey, when 40 per cent said they intended to cut their Saudi equity allocations and 33 percent to raise them.

In the last several days, the dollar/riyal spot rate has dropped back to 3.7510 on Sunday, roughly in line with its long-term levels.

The head of currency trading at a Gulf bank, who declined to be named because he was not authorised to speak to media, said the stock market might remain volatile in response to movements in oil, but unless there was a global equities meltdown, heavy outflows of funds from Saudi Arabia looked unlikely to resume.

"SAR may not weaken significantly from here even if there is a nominal fall in crude," he said, adding that Riyadh's plan to open the stock market to direct foreign investment in the first half of this year would also support Saudi equities.

A calmer spot market has reduced upward pressure on dollar/riyal forward contracts; one-year forwards have dropped back to 53 points in the past several days from peaks of near 100 points in the last few months.



Follow Emirates 24|7 on Google News.