SR107bn Saudi contracts in 2010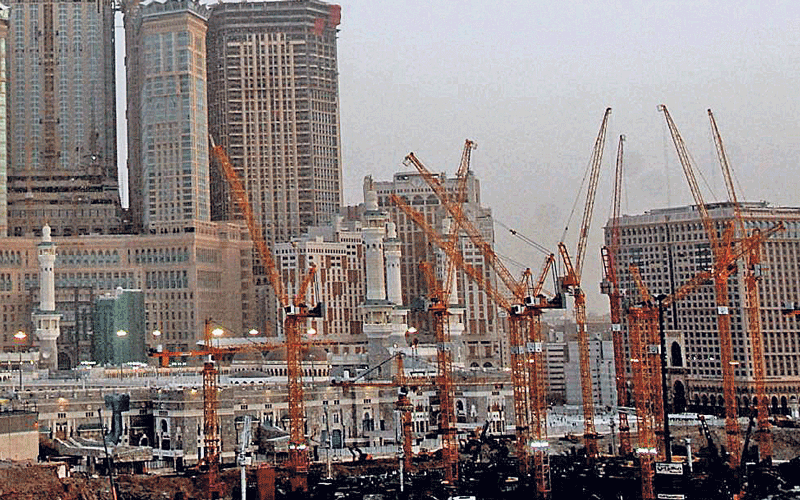 Saudi Arabia awarded around SR107 billion worth of construction contracts in 2010 and more than one third of them were in the power sector, the Gulf kingdom's largest bank said on Sunday.
National Commercial Bank (NCB) projected growth in such deals in 2011 after a decline in 2010 compared with the previous year, basing its forecasts on a record high budget and massive spending in the current five-year plan.
In a study sent to Emirates 24|7, NCB said numerous mega-projects last year were driven by government mandates as well as private initiatives to further the development of the kingdom's physical and social infrastructures.
"Consequently, the value of awarded contracts in 2010 reached SR107 billion. Most of the value of awarded contracts were driven by heavy spending sectors such as power, water and residential real estate. The power sector alone accounted for 37 per cent of the value of all awarded contracts," it said.
The report said nearly 70 per cent the contracts were awarded in the second half of 2010 as was the case in previous years.
"Since most of the awarded contracts were signed during the second half of 2010 the Construction Contract Index (CCI), which was lagging during the first half of the year, shot up 101 points to reach 180.2 points between the first quarter and the fourth quarter of last year."
It said the CCI, which was introduced in early 2008 with a 100-point base, reached its highest point of the year during the fourth quarter when it peaked at 196.9 points in November. While the CCI ended lower in 2010 than it did in 2009, reaching 259.4 points, it finished 10 points higher than in 2008.
"As mentioned in previous reports, 2009 was an exceptional year in terms of contracts being awarded. This was mainly due to the unusually higher than average value of awarded contracts in the power and petrochemical sectors."
But it noted that 2010 emerged as a solid year for the construction sector as infrastructure related sectors such as roads and water accounted for a higher value of awarded contracts compared to the previous two years.
A breakdown showed September was the busiest month last year in terms of awarded contracts, which totaled around SR31.9bn. The value of contracts awarded in October was also relatively high, standing at nearly sR18.2bn before plunging to about SR5.15bn in November.
The report expected the construction sector to "flourish" this year as a result of Saudi Arabia's initiatives to expand its long-term sustainable development by focusing on capital expenditures.
"We expect the construction sector to continue its ongoing trend of strong growth. The 2010-2014 ninth five-year development plan's allocation of SR1.44 trillion to capital expenditures will allow for a large amount of construction activities to continue during the medium to long-term," NCB said.
"Furthermore, the 2011 budget reiterates the commitment to enhancing infrastructure, healthcare, and social and economic development projects."
The report projected a sharp rise in the country's actual revenue to around SR753bn in 2011, more than SR200bn above the budgeted revenue.
Spending could rise by nearly SR100 billion to SR677bn, creating a fiscal surplus of SR77bn compared with a budgeted deficit of SR40bn.
"For 2011 we expect a similar proportion of contract awards to be distributed across the sectors, similar to 2010.…….heavy spending sectors like power, water and petrochemical will continue to absorb a large portion of the value of awarded contracts," the report said.
"However, the government's projected expenditures of SR150bn in the education sector will allow for the construction of schools, campuses and educational related facilities. Additionally, the government's projected spending of SR68.7bn on health and social affairs will allow for the construction of new hospitals, social centers, and community welfare offices."
Follow Emirates 24|7 on Google News.