Turkey invites investments from the UAE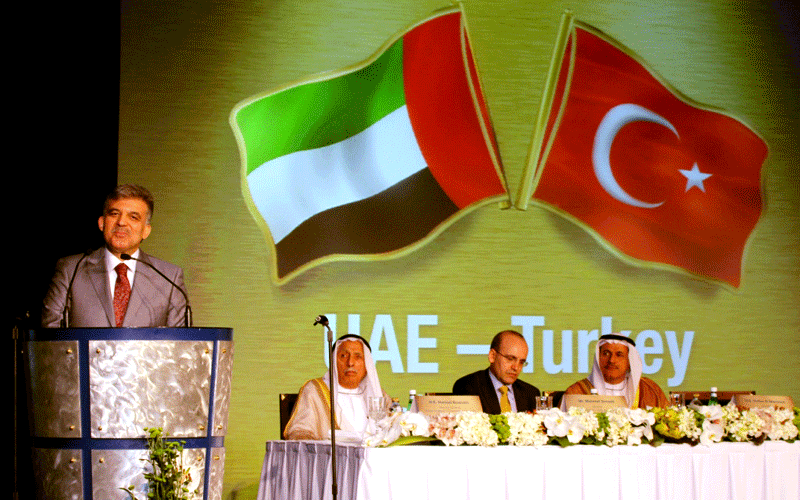 Turkey has called upon UAE and Turkey business leaders to benefit from the political will of their respective countries to enhance their economic cooperation.
Praising the rapid advancement of Dubai, Abdulla Gul, President of Turkey, stated that from his last visit as Foreign Minister of Turkey in 2005 till date, Dubai has witnessed incredible development due to its great organisational ability, efficiency, discipline and above all its vision and foresight to be ahead of the times, Dubai can greatly contribute to the dynamism of the Turkish business world.
Abdulla Gul urged the emirate's businessmen to raise the trade ties as he said that Dubai has one of the most sophisticated and advanced ports and airports, and provides world-class logistics and financial services.
Gul was addressing a gathering of 500 UAE and Turkish business leaders in the presence of Sultan Al Mansouri, UAE Minister of Economy, and Mehmet Simsek, Turkey's Minister of Finance, during the UAE-Turkey Business Forum organised by Dubai Chamber on Tuesday.
He called upon Dubai businesses to invest in Turkey's lucrative manufacturing, agriculture, tourism, transport and financial services sectors stating that Turkey's economy is very dynamic achieving 9 per cent growth in 2011 and is expecting 4 per cent growth this year.
He said the deep-rooted reforms Turkey has seen in the political, economic and legal fields and the facilities it provides to foreign investors in the country is very promising, especially the country provides opportunities for entering the European market by being a member of the European Union Customs since 1996 and its manufactured products competes with the European products.
Abdulla Gul sounded very optimistic about the economic outlook of Turkey and the strength of its financial sector stressing that Turkey has one of the best financial systems which helped it sail out smoothly during the financial crisis witnessed by other countries.
In his welcome address, Abdul Rahman Saif Al Ghurair, Chairman, Dubai Chamber, stated that this is an historic opportunity to develop business ties with the UAE, especially Dubai which has built an excellent reputation in the world of business and investment and has developed into a global destination and a gateway to investment in the region, said of Commerce and Industry.
Also present at the forum were Hamad Buamim, Director General, Dubai Chamber, and keynote speakers including Mr. Korhan Kurdoğlu, Chairman, Turkey-UAE Business Council Foreign Economic Relations Board (DEIK), Faik Yavuz, Vice President, Union of Chambers and Commodity Exchanges of Turkey (TOBB), and Mr. Abdulkerim Çay, Vice President, Turkey Prime Ministry Investment Support and Promotion Agency (ISPAT).
The Chairman of Dubai Chamber further stressed that Dubai is an ideal point for many global companies to expand into the GCC, Africa and Southeast Asia, and the emirate offers huge prospects for Turkish investors.
"Dubai's infrastructure is driven by large-scale investment and is a major power behind the economy. It is due to its strategic location between East and West and the wise leadership of His Highness Sheikh Mohammed Bin Rashid Al Maktoum, UAE Vice President and Prime Minister and Ruler of Dubai, that Dubai has achieved all it has today," he said.
Al Ghurair informed that Dubai has many thriving industries that are capable of attracting overseas investment, namely trade, tourism, logistics and financial services. These sectors are regarded as the pillars of the economy and each recorded significant growth last year and this is expected to continue, he said.
On Dubai's growing commercial relationship with Turkey, Al Ghurair pointed out that at present there are 282 Turkish companies operating in Dubai across a number of industry sectors. In the first nine months of 2011 non-oil trade between Dubai and Turkey reached around Dh10.5 billion, making Turkey Dubai's 19th largest trade partner.
Dubai's trade with Turkey is increasing and encompasses semi-precious stones, electric equipment and machinery in addition to cosmetics while there are many potential areas in Turkey, including trade, construction, real estate, transport and logistics that Dubai-based companies can invest in, added Al Ghurair.
The Chairman of Dubai Chamber said that this forum follows the very successful Country Focus Briefing on Turkey organised by Dubai Chamber last year as part of its efforts to explore new markets for Dubai's business community. He called upon Dubai traders to benefit from the networking and matchmaking meetings hosting top Turkish business leaders as Turkey today is one of the fastest growing economies, he added.
He also said the forum provided a fertile ground for delegates from both the sides to consolidate their trade ties, strengthen the channels of communication and explore potential investment opportunities which will further help boost bilateral ties for Dubai and Turkish businesses in the long run.
Faik Yavuz, Vice President, Union of Chambers and Commodity Exchanges of Turkey (TOBB), also urged the business community to unite their efforts in construction, tourism, financial and manufacturing sectors and called upon the UAE to remove the visa restriction and provide visa extensions to Turkish businesses in order to facilitate Turkish investments in the UAE.
He emphasised on the importance of trade of his country as he said that Turkey exports to 200 countries and half of this goes to developed countries and expressed his desire to raise bilateral trade ties between Turkey and the UAE.
Yavuz further stated that the target is to increase trade volume between UAE and Turkey to exceed $10 billion by 2015 and Turkey can play a strategic role in connecting UAE with the European and African markets as his country has investments in over 30 African countries and has a strong presence in the construction sector in Central Asia.
The attendees discussed establishing bilateral partnership in Africa and Central Asia and called to accelerate efforts for the process of free trade agreement with Turkey.
Follow Emirates 24|7 on Google News.