UAE among world's top five gold traders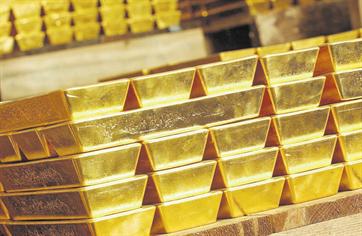 An analytical study issued by the Ministry of Foreign Trade (MOFT) has confirmed that the UAE is among the world's top five gold traders from 2005 - 2009 in both imports and exports of the commodity.
The MOFT study revealed that the UAE ranked third in exports and the second in imports in 2009, underscoring the continued success of the foreign trade structure of the UAE, which has become a pivotal trade hub between east and west.
The study also further confirms what was revealed in the International Competitiveness Report regarding the UAE's success in developing its international trade away from a reliance on oil into international commodity trade as a result of its adoption of a systematic strategy for constructing and developing the country's ports and airports and offering various logistics services in accordance with the latest systems and practices.
The study, which was prepared by Dr. Abdel-Hamid Radwan, an economic consultant with MOFT's Analysis and Trade Information Department, pointed out to the important role being played by the Dubai Multi Commodities Center through the numerous and diverse services that it offers to the gold trade, such as financing, offering logistical services, insurance, and initiatives for the development of the sector in the UAE.
These initiatives included the establishment of entities that offered many incentives for leading companies trading in precious metals to gather under one roof and thus encourage further exchanges.
The study also revealed that the value of UAE imports of gold (including platinum-coated, raw, semi-processed or powdered gold) amounted to $14.5 billion in 2009, registering a 10 per cent increase from 2008. In terms of volume, 547 tonnes were imported in 2009 in comparison with 524 tonnes in 2008, registering a 4 per cent increase. This increase in the trade of gold in 2009 affirms the special status of the gold trade in the foreign trade structure of the country.
The UAE's gold imports can be placed in two main categories that together constitute 99 per cent of the country's total imports of this commodity; imports of gold bullion that constitute 62 per cent of all gold imports, which are worth $9.1 billion (366 tonnes) and the imports of half processed gold that constitute 37 per cent of all gold imports, which are worth $5.4 billion (180 tonnes).
The UAE was ranked third, globally in gold exports in 2009 with a 10 per cent share of all global gold exports at a value of $10.5 billion while the USA came in first place with a 11.5 share valued at $12.1 billion followed by Australia with a 11.2 per cent share, while Hong Kong came in 4th place with a 9.5 per cent share valued at $10 billion and Canada with a 7 per cent share valued at $7.3 Billion.
The total value of gold exports from these top five countries was approximately $52 billion, constituting a 49.2 per cent share of global gold exports.
The study affirmed that the UAE came in second, globally in gold imports in 2009, importing approximately $14.5 billion worth of gold, which is equivalent to 16.6 per cent of all global gold imports, while India came in first place with $23.4 billion worth of gold imports. This reveals that India alone imports more than 25 per cent of the world's gold imports.
The value of gold bullion imports in 2009 reached $9.1 billion constituting 62 per cent of the total value of imports of gold with a total quantity of 366 tonnes.
The gold bullion supply structure is characterised by it not being geographically concentrated as it is divided among 87 countries with the top ten countries taking up a 69 per cent share, with Switzerland coming in first with a 14.6 per cent share and $1.33 billion value. This is considered a diversified source of supply with reduced geographic concentration risks.
In spite of the diversity of the sources of gold bullion, their exports (including exports and re-exports) are focused primarily on two countries, which are India, with $5.5 billion (52 per cent) and Switzerland with $2.2 billion (21 per cent), with both countries enjoying a total 73 per cent share.
Current data reveals that the UAE has achieved a gold trade surplus with India and Switzerland worth $5.9 billion, which means that the country's export apparatus can act as a bridge for the gold trade from African and Arab states (such as Libya, Sudan, Tanzania, Yemen and Iraq) into to those two countries.
The UAE gold bullion trade balance with all countries achieved an overall $1.42 billion surplus, as imports were $9.1 billion while exports were $10.5 billion, which means that there has been a strong demand for UAE gold bullion and that it is likely that stocks were used to cover the high demand.
The value of the UAE's imports of half processed gold in 2009 reached $5.4 billion, constituting 37 per cent of all UAE gold imports during the same year.
It is noted through an analysis of foreign trade in half-processed gold data that 96 per cent of the imports are focused on two countries only, which are India with a 80 per cent share and Pakistan with a 16 per cent share. This is due to the large numbers of Indians and Pakistanis and their customs and traditions that affect the decision to import.
It is also noted that there is an absence of half-processed gold while the re-exports of half-processed gold reached $8 million, constituting 0.04 per cent of the value of imports.
It is also revealed that all half-processed gold imports are absorbed by the local market, and this is attributed to the high levels of income and the large number of tourists who shop in the local gold markets that are characterised with high quality and enjoy an absence of a sales tax.
Available data has revealed that there has been a gradual increase in both the value and quantity of UAE gold exports.
However, although the growth rate in 2009 is less than the 2008 growth rate, the growth rates witnessed in the latter year are considered exceptional rates that exceeded, by three-fold, the global growth rate of gold exports.
The decline in the percentage of growth in 2009 is also attributed to the global economic crisis and its effects on the foreign trade structure.
Data also indicated that the UAE continues to achieve growth in fixed prices, especially in 2009 where it achieved a 19% growth rate although global exports of gold have registered a negative growth rate of 1.8 per cent.
Global gold imports have witnessed a 4.8 per cent decrease in 2009 in comparison with 2008. This decrease coincided with the global financial crisis and its ramifications.
In 2009, the value of gold exports was $105.2 billion while imports were $87.6 billion, registering a 20 per cent difference that can be attributed to the attempt of many countries to benefit from the increase in the value of gold in order to cover their export obligations or other balances.
Follow Emirates 24|7 on Google News.