UAE businessman felicitated in India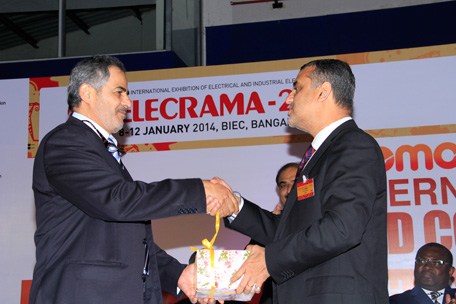 Officials of Indian Electricals and Electronics Manufacturers' Association (IEEMA) felicitated Khalfan Al Qubaisi, Chairman of UAE's Al Hamad Group, for his long association with Indian suppliers and the electrical industry at large. He was honoured on the second day of ELECRAMA 2014, the world's largest confluence of the power transmission and distribution sector.
The Abu Dhabi-based Al Hamad Group has various businesses with their flagship business activity as dealers in electrical and electronic equipment. They have been for long suppliers of various electrical equipment and suppliers to Dewa, Adewa and other utility companies in the GCC region.
"We established our contact with Yamuna Powers more than 15 years ago and with their healthy support and professional approach have been dealing with Indian products in the entire GCC, starting with Adewa and Dewa," said Al Qubaisi.
"I am delighted to be honoured by the officials of IEEMA and it only vindicates our joint commitment not just between the two companies but also between the two communities," he said after receiving a memento by IEEMA Vice-President AS Chauhan.
"Such long partnership with professional and personal commitment is to be honored and encouraged, and we are delighted to have partners like Al Qubaisi," said Sanjeev Sardana, Chairman of Elecrama 2014.
Yamuna Powers will be setting up a plant in the UAE, in RAK Free Zone, to cater to the GCC and beyond, with close proximity to the market. The 40-year-old company has export operations in over 50 countries and production facilities in India, China and soon to be in the UAE.
Follow Emirates 24|7 on Google News.