UAE job opportunities surge 45%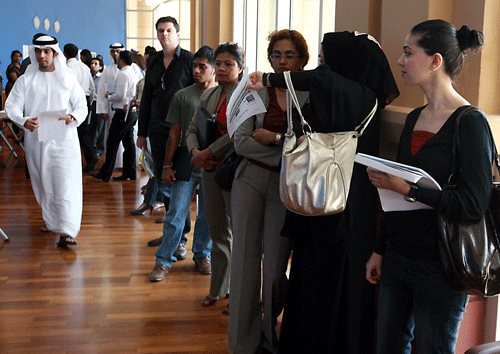 The number of job opportunities posted online in the UAE rose by 45 per cent over the year to January 2016, making the UAE the best performing market in the region, according to the Monster Employment Index (MEI).
Employment demand for the region rose 20 per cent over the year to January 2016, but exhibited slow monthly growth, down 4 per cent from December 2015.
"The remarkable rise in job opportunities across a variety of non-oil sectors in the UAE shows that despite the falling oil prices there is an underlying trend of optimism in the market, driving expectations for growth in 2016," said Sanjay Modi, managing director, Monster.com. "This trend is reflected across the GCC, with job opportunities rising by 20 percent over the year to January 2016," continued Sanjay.
The positive results of the MEI index for non-oil sectors are in line with the UAE's plans to shift the economy's reliance from natural resources to a knowledge economy and the non-oil sectors. At the 2016 World Government Summit new ministries were announced (Ministry of Youth, Happiness and Tolerance) and others were restructured to meet the ongoing demands of an evolving economic and social landscape.
The UAE industries which are offering the best employment opportunities at the moment are: consumer goods/ FMCG, food & packaged food, home appliance, garments/textiles/leather, gems & jewellery, with an impressive 54 percent growth in online job posts year on year.
The second best performing industry is healthcare, with a remarkable 53 percent growth in online job posts. Retail/trade and logistics is also seeking to hire candidates, with a growth of 40 percent in job opportunities posted online year on year to January 2016.
The outlook is gloomier for jobseekers in production/manufacturing, automotive and ancillary; advertising, market research, public relations, media and entertainment and oil and gas sectors, which exhibited a modest growth of 4 per cent, 2 per cent and a negative drop of 13 per cent, respectively.
Follow Emirates 24|7 on Google News.