UAE non-oil trade gap down 11.4%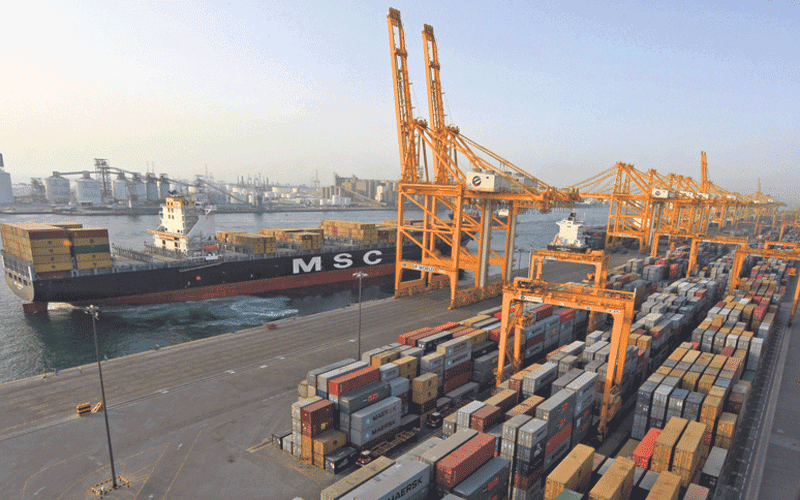 A surge in non-hydrocarbon exports and re-exports cut the UAE's non-oil trade deficit by around 11.4 per cent in the first nine months of 2010 despite higher imports, according to official data.
Exports soared by around 39 per cent to Dh61.7 billion in the first nine months of 2010 from Dh44.4bn in the first nine months of 2009, the national bureau of statistics said in a new report.
Re-exports, mostly by the region's trade hub Dubai, swelled by nearly 18.5 per cent to around Dh128bn from Dh108bn.
Imports grew by about five per cent to nearly Dh250.7bn from Dh334bn in the same period, the report showed. It put the country's total non-oil trade at nearly Dh540.5bn in the first
nine months of last from compared with aro8und Dh486.4bn in the first nine months of 2009. "The deficit in total non-oil trade declined by around 11.4 per cent to Dh161bn in the first nine months of 2010 from nearly Dh181.6bn in the first nine months of 2009," the report said.
The UAE has suffered from a shortfall in its non-hydrocarbon trade for most of the years given its large imports and relatively low non-oil exports. But the gap has largely narrowed over the past 15 years mainly because of a rapid rise in Dubai's re-exports.
In contrast, the UAE has enjoyed a massive surplus in its combined oil and non-oil commercial exchange because of its large crude and gas export value. In 2008, when oil prices hit an all time high of around $95, the UAE's oil exports peaked at over $90bn.
The massive oil and gas sales have allied with a sharp rise in imports to turn the UAE into the largest trade hub in the Arab world by overtaking Saudi Arabia, the largest Arab economy.
A breakdown showed manufactured goods topped the list of the UAE's re-exports in the first nine months of 2010, with a value of nearly Dh54.1bn. They were followed by machinery and transport equipment, with a value of nearly Dh44.4bn.
Manufactured goods were also among the key export items, totally around Dh6.8bn. The value of other "unclassified commodities" was estimated at around Dh47.9bn.
The report showed machinery and transport equipment accounted for nearly a third of the UAE's imports, standing at Dh111.1bn. Other key import items were manufactured goods with a value of around Dh85.8bn and miscellaneous manufactured products, which were put at nearly Dh44.6bn.
Follow Emirates 24|7 on Google News.