UAE non-oil trade jumps 11.5%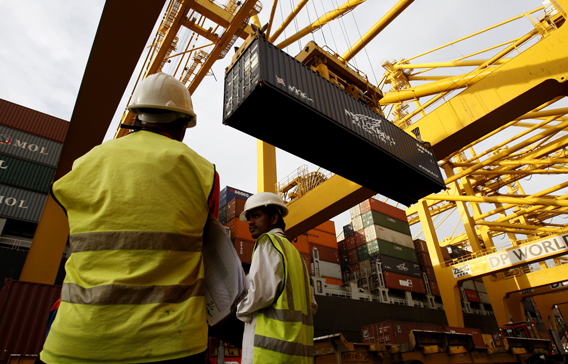 The UAE non-oil foreign trade maintained a sturdy growth of 11.5 per cent year-on-year till last October, Federal Customs Authority (FCA) said in its report.
FCA preliminary statistical data showed that the value of UAE non-oil foreign trade in the first ten months of 2010 jumped Dh62 billion to Dh605.4 billion from Dh543.2 billion in the year 2009.
UAE non-oil foreign trade mirrors the sound economic policies pursued by the UAE wise leadership since the onset of the global financial crisis in 2008. The sturdy uptick in trade volume suggests economic rebound and viability indicating more positive outlooks and results in the near future. The Authority also stated that the most notable readings from these statistical data are the record surge in exports and re-exports compared to imports.
"Preliminary statistical data for October 2010 reflected a 5.5 per cent rise in imports during the first ten months of 2010 to record Dh391.8 billion in October 2010 as compared to Dh371.5 billion in October 2009. Exports jumped 37.4 per cent from Dh51.1 billion in the 10-month period to Dh70.3 billion. Similarly, re-exports maintained a Y-o-Y growth rate of 19 per cent to Dh143.3 billion from Dh120.5 billion," FCA added.
The Total volume of UAE non-oil trade grew 14 per cent in October 2010 as compared to October 2009, as it jumped to Dh70 billion in October 2010 from Dh56.8 billion in October 2009. The preliminary data reflected a 27 per cent increase to Dh8.5 billion in non-oil trade exports for the same month, rising from Dh6.7 billion in year-earlier period. Re-exports amounted to Dh15.3 billion in October 2010, jumping 22 per cent Y-o-Y from Dh12.6 billion. Imports rose 10 per cent from Dh37.5 billion in October 2009 to Dh41.1 billion.
In terms of weight, the UAE non-oil foreign trade volume in October 2010 reached about 6.4 million tons, including 3.9 million tons of imports, 1.7 million tonnes of exports and 778 thousand tonnes of re-exports. Thus, the average weight of imported, exported and re-exported shipments and consignments dealt with by the different customs ports for the same month amounted to about 27 thousand tonnes per day on the basis of official working hours, at an average of three thousand tonnes per hour.
According to FCA India, China, US, Japan, Germany, UK, Italy, Saudi Arabia, Malaysia and France were the top ten exporters to the UAE in October 2010 with a total value of Dh24.5 billion, or 59 per cent of the UAE imports. On the level of non-oil exports, India, Switzerland, Brazil, Saudi Arabia, Qatar, Iran, Pakistan, Kuwait, China and Oman spearheaded importers from the UAE with Dh6.9 billion, accounting for 81 per cent of the UAE exports. Meanwhile, India, Iran, Bahrain, Afghanistan, Iraq, Hong Kong, Saudi Arabia, Qatar, UK and Kuwait topped the list in terms of re-exports with Dh10.9 billion, representing 71 per cent of the UAE re-exports.
The total value of UAE-GCC non-oil foreign trade hit Dh5.2 billion in October 2010, with Dh2.1 billion imports, Dh906 million exports and Dh2.2 billion re-exports. Saudi Arabia maintained its first rank among GCC region's trading partners with a total value of Dh1.7 billion. Bahrain came second with Dh1.4 billion, followed by Qatar (Dh774 million), Kuwait (Dh709 million) and Oman (Dh670 million).
FCA also pointed out: "The total foreign trade volume of the UAE with the Arab countries in terms of value amounted to Dh9.7 billion in October 2010, with Dh4.6 billion worth of imports, Dh1.4 billion worth of exports and Dh3.8 billion worth re-exports. Saudi Arabia topped the list of Arab states in terms of non-oil trade with the UAE, followed by Iraq, Qatar, Libya, Oman, Sudan, Egypt, Bahrain, Kuwait, Qatar, Morocco, Lebanon, Jordan, Syria, Somalia, Yemen, Tunisia, Djibouti, Algeria, Palestine, Mauritania and The Comoros."
The preliminary statistical data of October 2010 showed that gold took the first position among imports, with a value of Dh5.7 billion. It was followed by diamond with Dh3.2 billion, then cars (Dh2.5 billion), ornaments and jewelry (Dh2.2 billion), telephone sets (Dh1 billion), in addition to spare parts and accessories of tractors, vehicles for special uses, passenger vehicles and goods vehicles (Dh516 million).
Gold also took the first spot in the exports list with Dh3.5 billion. Light-vessels, fire floats, and dredgers ranked second with Dh1.4 billion. It was followed by waste and scrap of precious metals or ordinary metals with Dh556 million, then sugar cane or sugar beet (Dh160 million) and pebbles, gravel, broken or crushed stones, that are commonly used for concrete or paving roads or railways or other types of pavement (Dh158 million). On the level of re-exports, diamond came first with a total value Dh3.7 billion, followed by ornaments and jewellery and related parts (Dh967 million), cars (Dh967 million) and telephone sets (Dh387 million).
The total trade volume of UAE free zones and markets amounted to Dh768 million, of which Jebel Ali Free Zone (Jafza) dominated the lion's share of Dh444 million, FCA said.
Follow Emirates 24|7 on Google News.