Veggie alert: Indian restaurant chain Sangeetha expands in UAE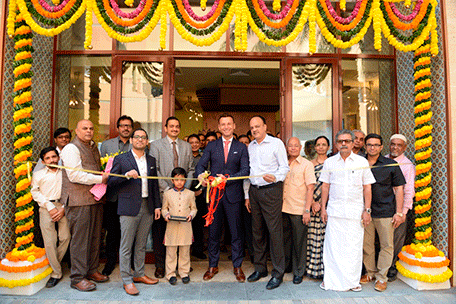 Expanding its presence in the UAE, south Indian international dining chain Sangeetha Vegetarian Restaurant inaugurated its newest branch at Al Ghurair Centre, Deira, its eighth outlet in the country and 47th globally.
Setting up its first mall branch has been a long time coming for the restaurant chain, which has won Dubai Municipality's special food safety award and has topped the 'best breakfast' category in a customers' choice poll on Zomato.com, the restaurant listing and review website.
Sangeetha has been in the UAE for 15 years now.
"We aim to bring Sangeetha's signature fresh and authentic vegetarian fare closer to the people who love good food, and the Al Ghurair Centre is the best choice for our first mall outlet in the UAE, considering the number of families, office staff, and tourists in the area," said Raj Gopal, Managing Director of Sangeetha Restaurants Worldwide.
Sangeetha Worldwide now has eight restaurants in the UAE, two in Malaysia, one each in Bahrain, Hong Kong, France, Britain and the United States, and 32 in India. The chain is set to open in Australia this year and is currently in active talks to expand its presence in Qatar, US and UK. Plans are also being drawn to open restaurants in Kuwait and Saudi Arabia.
In the GCC and Hong Kong, Sangeetha is franchised by and in partnership with LMZ Cuisines – the food and beverage subsidiary of Landmark Zenath (LMZ) Group.
Growing market
The expanding chain of Sangeetha is shored up by the growing market demand fuelled by the foodies, vegetarians and non-vegetarians alike. These are people who just love to eat and are always on a hunt for good food.
"With the UAE hosting over 200 nationalities, we see a lot of residents keen to try out flavours, tastes and experiences new to them. We have observed this throughout our two-decade history in the UAE retail business. And this prompts us to continuously invest and expand to fill the demand in this market," said Deen Sadiq.
"The menu consists of south Indian and north Indian cuisines, including hugely popular traditional meals such as spicy Chettinad dishes, aloo parathas, tandoori items, and biriyanis. The menu includes Chinese dishes as well. The 'mini tiffin' is the highest selling item at most Sangeetha outlets," Raj Gopal said.
With people becoming more watchful of what they eat, the vegetarian market is also stronger than ever. The green diet is gaining more popularity in the country and across the world. While in the UK approximately 12 per cent of the population is vegetarian, 5 per cent of American adults are considered vegetarian.
In the UAE, many residents, particularly those from the South Asian region, require that their staple food are not meat-based. These expatriates have brought their eating patterns to the country and the opening of new restaurants has made vegetarian dishes more accessible to them.
Welcoming Sangeetha, Al Ghurair Centre's Hani Dabash said, "We are pleased to have Sangeetha to the New Dining District of Al Ghurair Centre, which houses foremost brands that provide exceptional dining, entertainment and shopping experiences. This addition would definitely allow visitors to enjoy sumptuous vegetarian dishes at the convenience of being in a mall."
The first Sangeetha restaurant was opened in 1984 in Chennai, then called Madras, in the south Indian state of Tamil Nadu. Apart from the Deira outlet, it is present in Bur Dubai, Karama, and Al Qusais in Dubai; Abu Shagara in Sharjah; as well as Electra Street, Salam Street, and Musaffah in Abu Dhabi.
LMZ is one of the leading names in UAE's hospitality industry with interests in hotels and restaurants. Apart from Sangeetha, which is a vegetarian restaurant chain, it also runs a non-vegetarian south Indian restaurant chain, besides outlets offering American, Thai, Filipino and Arabic fare.
Follow Emirates 24|7 on Google News.