#WorldGovSummit: Dubai's private sector clean energy pull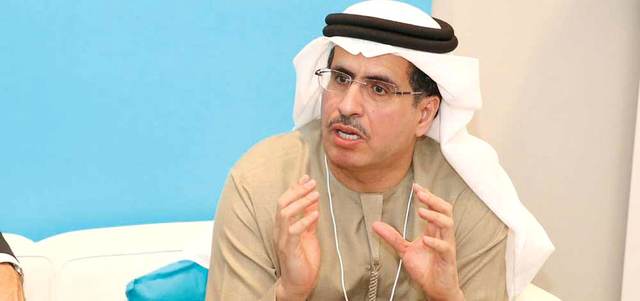 Saeed Mohammed Al Tayer, CEO of Dubai Electricity and Water Authority (Dewa), noted that Dubai provides the perfect environment for the private sector to actively contribute to renewable energy projects and achieve success.

Al Tayer made the statement during a plenary session on the first day of the World Government Summit. Joe Kaeser, President and CEO of Siemens AG, shared the session with Al Tayer.

The session titled 'How Clean Tech is shaping the Future of Energy' was moderated by John Defterios, CNN's Emerging Markets Editor.
The session saw a wide attendance from the World Government Summit participants and the media.

Al Tayer noted that discussing renewable energy at this year's World Government Summit, underlines the importance the UAE is attaching to renewable and clean energy.
President and CEO of Siemens AG hailed the UAE's efforts and its futuristic vision in energy sector.

"At Dewa, we have an integrated vision in energy sector that focuses on energy security through diversifying its resources, the latest technologies, energy storage, CO2 capturing, increasing efficiency in the production, transmission, and distribution of electricity and water," added Al Tayer.

Al Tayer highlighted the Dubai Clean Energy Strategy 2050, launched by His Highness Sheikh Mohammed bin Rashid Al Maktoum, Vice-President and Prime Minister of the UAE and Ruler of Dubai, to provide 7 per cent of Dubai's energy from clean sources by 2020, 25 per cent by 2030 and 75 per cent by 2050.
Al Tayer shared Dewa's experience in increasing use of renewable energy.
This includes the Mohammed bin Rashid Al Maktoum Solar Park, which is the largest single-site solar energy project in the world, based on the independent power producer model.
The solar park will produce 1,000 MW by 2020 and 5,000MW by 2030 with a total investment of Dh50 billion.
It will help achieve a reduction of approximately 6.5 million tonnes of carbon emissions annually, which supports Dubai Government's green initiatives and programmes.

Al Tayer pointed that Dewa adopts smart grids that includes demand-side management, asset management, distribution automation, substation automation, system integration, and smart meters, of total Dh7 billion investments.
Dewa's efforts in energy efficiency have contributed to achieving several milestones globally, surpassing major European and American companies in different areas. Losses in power transmission and distribution networks is 3.26 per cent, compared to 6-7 per cent in Europe and the USA.
Water network losses is 8.26 per cent, compared to 15 per cent in North America. Customer minutes lost per year reached 3.87 minutes, compared to 15 minutes recorded by leading utilities in the European Union.

The Dubai Integrated Energy Strategy 2030 focuses on energy security by diversifying the energy mix, and reducing energy and water use by 30 per cent by 2030. Dewa invests in 9 programmes as part of the demand-side management strategy.
These include green building regulations, retrofitting existing buildings, district cooling, wastewater reuse, laws and standards to raise efficiency, energy-efficient street-lighting, and Shams Dubai, which encourages building owners to install photovoltaic panels to generate electricity.
Dewa signs MoU with Microsoft
Dubai Electricity and Water Authority (Dewa) has signed a Memorandum of Understanding with Microsoft Corporation to promote cooperation between the two sides in exchanging knowledge and expertise, development of solutions and applications, and enhancing innovation across the UAE and GCC.
The MoU was signed by Saeed Mohammed Al Tayer, MD and CEO of Dewa, and Samer Abu Ltaif, Regional General Manager, Microsoft Gulf, during the first day of the World Government Summit.
Speaking on the occasion, Saeed Mohammed Al Tayer said, "Dewa supports the strategy of our wise leadership by adopting innovation and excellence to provide the best quality and efficient services. This is done by making optimal use of modern technologies to achieve Smart Dubai initiative, launched by His Highness Sheikh Mohammed bin Rashid Al Maktoum, Vice-President and Prime Minister of the UAE and Ruler of Dubai, to transform the emirate into the smartest city in the world.
"Dewa's partnership with Microsoft reflects our continuous efforts to use state-of-the-art technologies in Dewa's operations. It also underlines our commitment to keep up with the latest developments to achieve our vision to become a sustainable innovative world-class utility. The move also contributes to Dewa's global position as one of the largest and most efficient utilities, achieving the happiness of its customers and stakeholders.
"Today, Dewa has taken a new step in its smart transformation by partnering with Microsoft. This will contribute to enhancing Dewa's operations, improving efficiency, accelerating innovation, and making more achievements and successes," he added.

Samer Abu Ltaif said, "We are excited to be supporting Dewa in this step towards government modernisation and solidifying their efforts in realising goals set in accordance with the Dubai Plan 2021. This strategic collaboration will contribute in the direction of enhancing competitiveness in information technology and the smart infrastructure. It also supports Dewa in their mission to make use of the latest technologies to drive innovation for a smart and integrated city."
Follow Emirates 24|7 on Google News.