Egypt finances faces new tests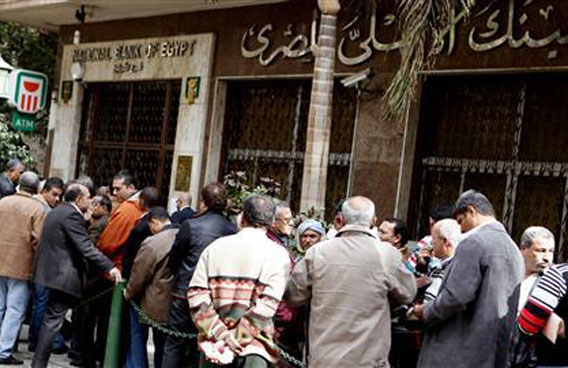 Egypt's finances face more tests on Monday as the government seeks to sell $2.5 billion of short-term debt and banks reopen their doors to international transactions, but the stock exchange will remain closed.
Banks on Sunday opened for the first time in a week to lines of customers wanting access to their accounts on Sunday, though the Egyptian pound weakened only modestly after violent protests gave way to political talks.
The central business district was palpably more relaxed early on Monday, with traffic police and soldiers returning smiles and much more fruit and vegetables on the stands.
Currency traders said pressure could grow more acute later in the morning when banks outside the region open as well. Egyptian banks, which are operating at reduced hours, open at 10 a.m. (0800 GMT)
"People are trying to get out. There will be more tomorrow, when I think we're going to test 6.00," a London-based trader said. The pound closed on Sunday at 5.93 to the dollar.
The country also faces a test of debt market confidence on Monday when the central bank seeks to roll over 15 billion Egyptian pounds ($2.53 billion) of Treasury bills, after being forced to cancel auctions last week.
Egypt's central bank said it would auction 8 billion pounds in 91-day bills, 5 billion pounds in 182-day bills and 2 billion pounds in 273-day bills for settlement date on Tuesday.
"We have no idea where the rates are going to be on Monday," a fixed income dealer at a Cairo bank said. Most banks were having problems calculating their reserves, which made it hard for them to judge how many T-bills they should buy, he added.
Other parts of the economy gradually began to return to normal on Sunday for the first time in a week, with ports, transport infrastructure and factories gearing up.
Egypt's biggest listed firm on the state's benchmark stock index, Orascom Construction, said it had resumed on Sunday construction work in over 50 location, which represents around 90 percent of the company's operations.
The stock exchange has been closed since January 27 and the government said it will remain closed until Tuesday at least.
Follow Emirates 24|7 on Google News.