Emirates NBD Group becomes official banking partner for Expo 2020 Dubai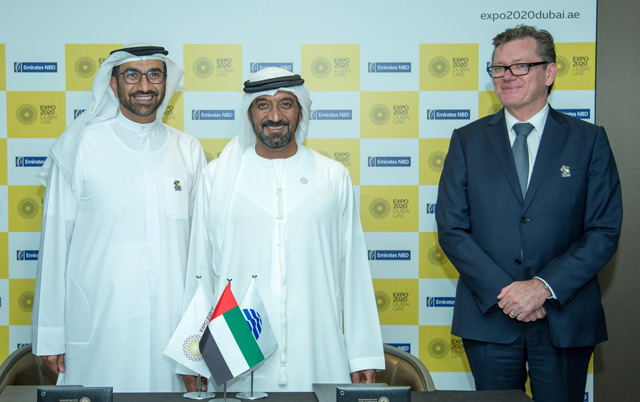 Emirates NBD, a leading banking group in the region, has signed a Premier Partnership agreement with Expo 2020 Dubai to become its Official Banking Partner.
The partnership marks Emirates NBD's long-term commitment to supporting the growth and development of the UAE, in line with the vision of His Highness Sheikh Mohammed bin Rashid Al Maktoum, Vice-President and Prime Minister of the UAE and Ruler of Dubai.
The partnership agreement was signed by His Highness Sheikh Ahmed bin Saeed Al Maktoum, Chairman of the Expo 2020 Dubai Higher Committee, and Hesham Abdulla Al Qassim, Vice Chairman and Managing Director, Emirates NBD Group.
Emirates NBD will be the exclusive onsite banking partner, providing ATM machines and an onsite 'Bank of the Future' where the UAE-based banking group will offer a variety of services to visitors, participants and organisers, such as merchant account operations, Islamic banking and foreign exchange services.
The partnership with Expo also marks a significant milestone in Emirates NBD's own path to growth. Formed in 2007 with the merger between Emirates Bank International (EBI) and the National Bank of Dubai (NBD), Emirates NBD has grown into a business that today has a brand value of Dh12.5 billion ($3.4 billion), and is recognised as a standard-bearer for banking and financial services across the region and internationally.
Her Excellency Reem Al Hashimy, UAE Minister of State for International Cooperation and Director General, Expo 2020 Dubai, said: "The banking sector is changing at an incredible rate, from the boom in online, telephone and banking apps to the latest technology being used to enhance the branch experience.
"Emirates NBD has been at the forefront of this transformation, as illustrated by its futuristic branch at Jumeirah Emirates Towers, part of Dubai Future Foundation's prestigious Museum of the Future, where people can see first hand how banking is evolving.
"As such, the group will play a key role in ensuring that banking services at Expo 2020 Dubai are at the forefront of innovation, while meeting the needs of every customer."
Also welcoming the partnership, Hesham Abdulla Al Qassim said: "As a home-grown bank of the UAE and a market leader in the country's banking sector, we are truly honoured to be the official banking partner of a national initiative on the scale of Expo 2020 Dubai.
"We recognise the value of collaboration across cultures in generating sustainable solutions to global problems, and are delighted to support Dubai's Expo core vision of 'Connecting Minds; Creating the Future'.
"At Emirates NBD, we believe innovation is key to the country's future growth, and we are committed to leveraging digital innovation and adopting smart technologies to create a superior banking experience for our customers. We believe Expo 2020 Dubai will be an opportunity to further demonstrate what the UAE is achieving in business innovation and global best practice."
With assets of close to Dh450 billion ($122.5 billion), the bank's operations have grown outside of the UAE to include Egypt, Saudi Arabia, Singapore and the United Kingdom, as well as representative offices in India, China and Indonesia.
The bank is a significant employer with more than 10,000 people representing 70 nationalities, making Emirates NBD one of the largest and most culturally diversified employers in the UAE.
As a Premier Partner, Emirates NBD joins DP World, Emirates Airline, Etisalat, SAP and Siemens in the top tier of the Expo partnership programme.
Through its main theme, 'Connecting Minds, Creating the Future', Expo 2020 Dubai will provide a platform to encourage creativity, innovation and collaboration and the bank's passion for innovation and unlocking opportunity is also aligned with Expo 2020 Dubai's key themes of Opportunity, Mobility and Sustainability.
Emirates NBD has underlined this with its investment of Dh500 million ($136 million) over the next three years towards digital innovation and multichannel transformation of its processes, products and services.
The Emirates NBD Future Lab is a key initiative of the bank's digital strategy that enables and accelerates the development of next generation digital and mobile banking services with the aim to increase smart service adoption in the UAE. The bank also launched Liv., the UAE's first digital-only bank targeted at millennials.
Emirates NBD also contributes in its commitment to the communities it serves through its corporate responsibility strategy by positioning shared values at its core.
Aligned with Expo 2020's theme of sustainability, Emirates NBD's focus areas include advocating for people with disabilities, financial literacy, women's empowerment, health and wellness, environment, and community development.
These focus areas are driven through a regionally award-winning employee volunteer programme, the Exchanger, which saw almost 11,000 hours of volunteer work carried out by its staff in 2016.
The Emirates NBD Group is the latest world-class company to partner with Expo 2020 Dubai. Such agreements are an integral part of preparations for the Expo, with some of the world's most innovative firms helping to deliver a World Expo that will be a festival for all, where everyone can learn, innovate, create progress and have fun by sharing ideas and working together.
More partnerships are expected to be announced in the coming months.
Follow Emirates 24|7 on Google News.