Emirates NBD posts Dh2.3bn profit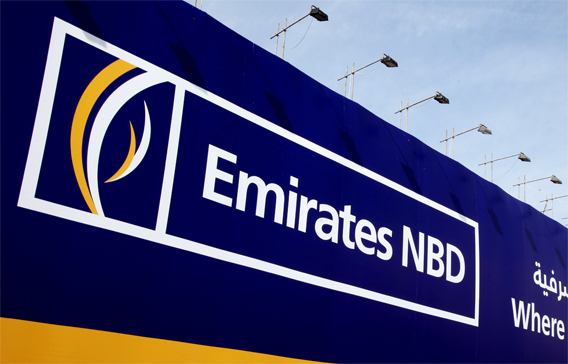 Net profits at Emirates NBD, one of the largest banks in the country, dropped 30 per cent in 2010 compared with 2009, the bank announced today.
In a statement, the bank said its total income for 2010 was Dh9.7b, down 10 per cent when compared with Dh10.8b in 2009, while net profit for the year stood at Dh2.34b, down 30 per cent from Dh3.34 it registered in the previous year.
At Dh6.8bn, the bank's net interest income for the year is down 8 per cent versus 2009, while non-interest income for 2010 of Dh2.9b is down 13 per cent compared with 2009. Impairment charges saw a 4 per cent decline, from Dh3.32b in 2009 to Dh3.19b in 2010.
"Emirates NBD's consistently resilient performance during the challenges of the last two years highlights the strength of the bank and our historically conservative and prudent approach. Although the year showed signs of improving market and economic conditions, Emirates NBD continued with its prudent approach, taking steps to ensure we emerge strongly from the current economic environment. The success of our completed merger, the largest in the region, has proven our ability to capitalise on value-adding opportunities for our shareholders and we believe the bank will benefit from such opportunities in the coming years as we see improvements in economic activity in the region," said Ahmed Humaid Al Tayer, Chairman of Emirates NBD.
Emirates NBD's CEO Rick Pudner said: "While the operating environment during 2010 has remained challenging, we have delivered a robust financial performance. During the year we have achieved significant success in positioning the Bank for future growth opportunities through an improved funding and liquidity position, strengthened capitalisation, enhanced risk management capabilities and increased operating efficiency. We have also continued to invest selectively in growth areas such as Private Banking, SME Banking and our expansion in the UAE and regionally which is expected to reap further benefits in 2011. Furthermore, the successful implementation of the new Emirates NBD brand in 2010 has further enhanced the strength of our franchise and will support business growth in the coming years."
Emirates NBD expects its bad loans ratio to rise further in 2011 as exposures continue to weigh on profitability, the lender said on Thursday.
"We all know that a portion of Dubai Holding is undergoing a similar negotiation and restructuring as Dubai World is, and in addition we do expect further migration of corporate loans into impaired loans this year," said Ben Franz-Marwick, head of investor relations at ENBD.
"Putting all that together, I would say we expect impaired loans as a percentage of gross loans to peak in the region of 14-15 per cent during this year."
Follow Emirates 24|7 on Google News.