Emirates to review fuel surcharge, scrap first class on some routes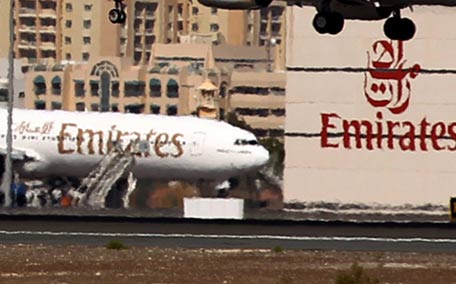 Emirates is reviewing its fuel surcharge on passenger tickets, as it plans to scrap its 'first class' category on a few of its routes, a senior airline official said.
"We are looking at adjusting the surcharge though we have been impacted by the currency fluctuations in Russia and Europe.
"We have revised the charge in 2006 and 2007 and now we are evaluating it," Sheikh Majid Al Mualla, the airline's Divisional Senior Vice-President of Commercial Operations, said at a Destination Dubai 2020 conference.
Though no specific time for the surcharge revision was given, he said the decision was likely to be taken soon.
It has been reported earlier that Qatar Airways is planning to reduce its fuel surcharge.
Australia's Qantas, Malaysia's AirAsia, Philippine Airlines and Cebu Air have removed surcharges, while Taiwan's China Airlines and Eva Airways have reduced the charge by about 40 per cent over the past six months.
Singapore Airlines, however, has said it will continue to levy its surcharge, which is among the highest in Asia.
Al Mualla revealed the airline was planning to have only two categories – business and economy – on A380s flying to few routes such as Indonesia with plans to phase out its A330 and A340 aircraft.
"We will phase out the A330 and A340 aircraft in the coming two to three years. We haven't taken any decision so we may either sell them or dismantle them."
Emirates has only 16 of these aircraft in their fleet.
The airline reported a profit of Dh1.9 billion in the six months to September 30, 2014. The 11.8 per cent rise came even though an expected loss of around Dh1 billion of revenue was caused by disruption during the upgrading and refurbishing of the two runways at Dubai International Airport between May and July.
Follow Emirates 24|7 on Google News.