Emirates Transport launches first CNG operated forklift in UAE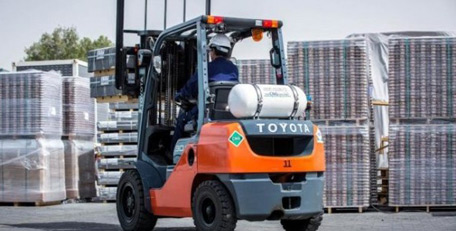 Emirates Transport, ET, has announced the launch of the first Compressed Natural Gas, CNG, operated forklift in the UAE. The move comes within the corporation's efforts to develop its business investments in line with the country's green development aspirations.
Amer Ali Al Harmoudi, Executive Director of Auto Services at Emirates Transport, said that the project will achieve a quantum leap in the use of CNG to power industrial vehicles and machinery, and will have significant environmental and economic benefits.
Al Harmoudi said that the modified forklift enables the use of CNG instead of Liquefied Petroleum Gas, LPG, which will significantly reduce carbon emissions by up to 25 percent, as well as huge reductions in petrol costs of up to 80 percent.
He added that the use of CNG also increases the operational life of the forklift engine and reduces its operating temperature which, in turn, will also reduce the required periodic maintenance and oil changes for the engine, pointing out that CNG is one of the cleanest and safest fuels, compared with the traditional energy sources.
The Executive Director said that the forklift modification process was carried out by expert technical cadre from Al Etihad Centre, a subsidiary of ET which specialises in the modification of vehicles to operate on compressed natural gas.
The centre's list of clients include the Ministry of Interior, the Ministry of Climate Change and the Environment, the Municipality of Abu Dhabi, DP World, the Dubai Silicon Oasis Authority and a number of Dubai Driving Schools.
Follow Emirates 24|7 on Google News.