Empower launches '24 C Cool' summer campaign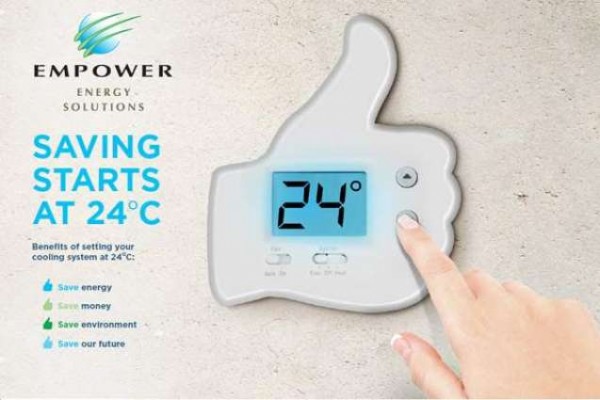 Emirates Central Cooling Systems Corporation, Empower, has launched its summer campaign, '24 C Cool', which seeks to achieve significant savings in electricity consumption during the summer season. This is part of Empower's efforts to raise awareness on the importance of adopting sustainable practices and environmentally-friendly district cooling services.
The campaign includes tips and guidelines that contribute to reducing energy use during the summer. These include encouraging consumers to set their air conditioners at 24 degrees Celsius, in addition to other innovative methods to rationalise indoor temperature and reduce monthly costs through environmentally friendly consumption habits.
Empower ran a pre-summer preparation campaign of '8 Steps Summer' to ensure accuracy, efficiency and reliability of the usage of district cooling during the peak season. The pre-summer campaign offered residents simple, yet effective tips to prepare their room to face the summer months. It also offered revolutionary methods to reduce heat build-up in homes and lower monthly expenses in an eco-friendly way.
"Empower works on implementing sustainable development, according to the directives of His Highness Sheikh Mohammed bin Rashid Al Maktoum, the Vice President, Prime Minister and Ruler of Dubai, to reduce electricity and water consumption by 30 percent, and make Dubai the city with the lowest carbon footprint in the world by 2050," said Ahmad bin Shafar, CEO of Empower.
He added that in 2017 Empower had achieved total savings of 1,072 MW of electricity, in addition to AED2.8 billion worth of savings in electricity.
Follow Emirates 24|7 on Google News.