Dubai steps up curbs on illegal diesel trading in sting operation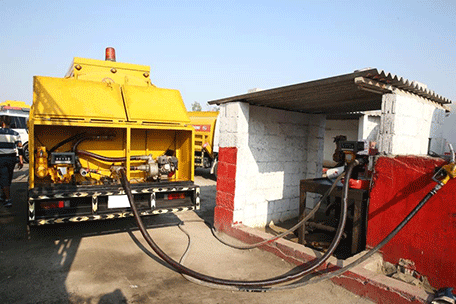 Eight Dubai Government entities joined hands to inspect 12 companies in the emirate involved in illegal trade in diesel.


The inspections occurred over a two-day period in Ras Al Khor Industrial Area in Dubai. A number of trading companies and agents were penalised for numerous violations ranging from use of unsafe fuel facilities to illegal retailing of diesel.


The committee consisted of representatives of Emirates Authority for Standardization and Metrology (ESMA), Ministry of Human Resources and Emiratisation, Dubai Civil Defence, Department of Economic Development in Dubai, Dubai Municipality, the Roads and Transport Authority (RTA), Dubai Police, the Ministry of Climate Change and Environment and the Emirates National Oil Company (Enoc).


According to specifications under Federal Cabinet decision no. 37 of 2013, organisations and individuals must only market or use ultra-low sulphur diesel, containing less than 10 parts per million (ppm) of sulphur.

Illegal diesel, also known as 'grey diesel', is fuel that contains more than 10 parts per million of sulphur, and is in direct violation of UAE law.

The diesel standards set by Esma fully comply with the Euro 5 standard for diesel, which serves to reduce harmful vehicle emissions and helps promote a healthier environment.

"The UAE government's directive towards sustainability and adherence to increasingly higher environmental standards are key components that drive the advancement of the UAE's socio-economic development. It is in the interest of the country, the people and the environment that illegal diesel trade activities cease as it infringes on these values," stated Saif Humaid Al Falasi, Group CEO, Enoc.

"At Enoc, we remain committed to collaborating with key government authorities to curb illegal trading of diesel and taking the necessary actions to eliminate considerable economic and environmental losses," he added.

The inspections identified a number of companies in violation of legal specifications set under the Federal Cabinet decision.

Some of the inspected companies did not present the required certifications from Esma, while others failed to show required employment permits and trade licences to validate the nature of their operations and line of business. Other companies failed to comply with safety and security measures for diesel storage tanks.

"Our intelligence suggests that the trade of this fuel is still flourishing after several raids were conducted over the last two years. The negligence of some critical EHSQ factors in the illegal trade of diesel can result in significant ramifications and has a lasting detrimental impact on the environment, (including underground water ways) and public health. Our message to these vendors is to cease these activities immediately or face even stricter penalties for these illegal actions," said Zaid Alqufaidi, Managing Director, Enoc Marketing.

During the inspections, ESMA identified several irregularities including non-conformance to product specifications and standards.

The Ministry of Human Resources and Emiratisation reviewed work permits for each employee and fined companies who were unable to present the required employment documentation at the time of the inspections.

Civil Defence inspected the storage terminals and tankers and fined companies who were in direction violations of safety and storage standards.

The Department of Economic Development fined companies who were found in direct abuse of the Federal law.

These were imposed after several irregularities were found including trading without the necessary permits and trade licences.

Some companies were also fined for their violation of environmental preservation rules by the Dubai Municipality, while RTA conducted thorough vehicle inspections to ensure their conformance to the specifications set by the authority.

The campaign will continue until it is clearly visible that all organisations in the oil sector adhere to the regulations and standards set by the UAE.

"The success of these sting operations is a gratifying development as it proves that a multi-stakeholder collaboration between key Dubai authorities is once again successful, especially when the public health and environmental considerations are compromised. I would like to extend our sincere thanks to all the participating entities," said Khalid Saad Al Fuhaid, Senior Manager, Enoc Industrial Products Marketing.
Follow Emirates 24|7 on Google News.