Oil above $50 may boost Gulf stock markets today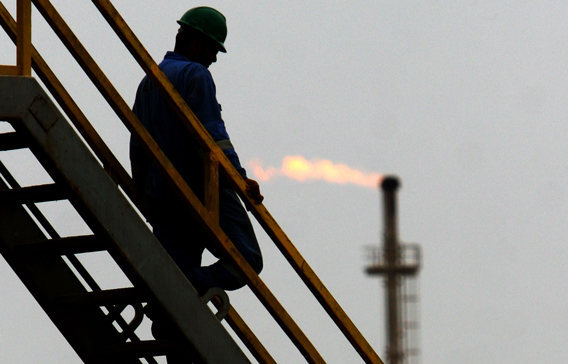 Oil price gains may boost the sentiment of Gulf equity investors on Sunday, although an earnings miss by Saudi Basic Industries could hurt petrochemical stocks.

The Dubai Financial Market (DFM) Index was up 1.85 per cent some 15 minutes into opening this morning, with the index hovering above 3,900 points at the time.

Oil rose on Friday to close the week higher after seven weeks of non-stop losses, with Brent slightly above $50 a barrel.

A report by the International Energy Agency said there were signs that lower prices had begun to curb production in some areas, including North America.

The plunge of oil triggered panic sell-offs across Gulf bourses late last year and analysts have said markets will only begin to make sustained gains after the commodity stabilises.

A surprise rate cut by Egypt's central bank may support the Cairo bourse.

However, petrochemicals giant Sabic, Saudi Arabia's biggest listed firm, may come under selling pressure after it reported a 29 per cent plunge in fourth-quarter net income, widely missing analysts' forecasts.

The company earned SR4.36 billion ($1.16 billion) in the quarter while seven analysts polled by Reuters had predicted a profit of SR5.50 billion on average.

Saudi Arabian insurance firms on the other hand may attract investors after Arabian Shield Cooperative Insurance reported a 228 per cent leap in fourth-quarter profit.

Shares in Aldrees Petroleum and Transport Services Co may also gain, despite the shaky outlook for the oil industry, after the company's 2014 net profit met the forecast of EFG Hermes analysts and its board proposed a dividend of SR2 per share, higher than the broker's estimate of SR1.5.

Construction firm Abdullah Abdul Mohsin al-Khodari and Sons reported a five-fold increase in fourth-quarter net profit and announced its project pipeline had expanded.

The company made a profit of 45.6 million riyals, up from 8.5 million riyals a year earlier – possibly a sign that the negative cost impact of Saudi labour reforms has largely faded.

Elsewhere in the Gulf, Oman Cement, one of the sultanate's largest cement firms, may come under pressure after it reported a 35.8 per cent drop in fourth-quarter net profit on Thursday. The firm made a profit of RO1.7 million ($4.4 million); analysts polled by Reuters had forecast on average a profit of RO2.56 million.

In Dubai, construction firm Arabtec, whose shares rose sharply last week ahead of a regular board meeting that discussed its projects, gave no fresh details of its business in a statement after the meeting.

The board "expressed its great confidence in the executive management which performs its responsibilities with ultimate professionalism", said the company's restructuring had gone well, and pledged to continue diversifying into profitable projects, without giving any details.

In Egypt, the central bank made a surprise 50 basis-point cut in its main interest rate on Thursday, saying plummeting global oil prices had eased inflation risks while economic growth was rebounding.

The move may reinforce the optimistic sentiment that has driven the market's rally last week; cheaper oil is likely to ease pressure both on Egypt's budget and balance of payments.

The Cairo index last closed at 9,556 points, after failing an initial test of major technical resistance at 9,572-79 points, the peaks in November and December.
Follow Emirates 24|7 on Google News.