World's largest oilfield to get even larger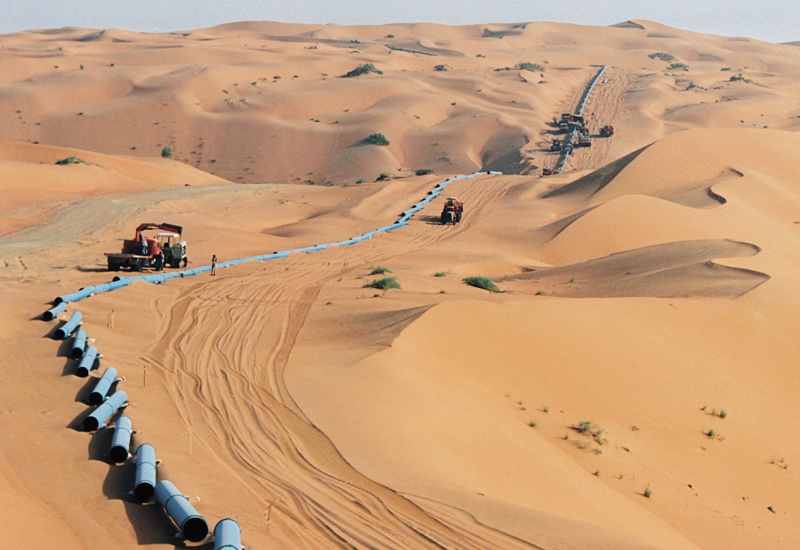 Saudi Arabia is planning to deploy new technology to extract more crude from the world's largest oilfield that pumps more than double the combined output of the UAE and Kuwait, its state hydrocarbon operator has said.
Stretching over an area that exceeds that of entire Lebanon, Ghawar oilfield still pumps more than five million barrels per day (bpd) of crude nearly 60 years after it began spewing oil from beneath the most barren desert in the world.
Travelling by car at 100 kilometres per hour, visitors need at least six hours to finish a trip around the oilfield in the eastern province, the hub of the country's oil industry and home to more than 20 per cent of the world's crude resources.
The field now pumps more than 60 per cent of Saudi Arabia's crude production, six per cent of the world's oil supplies and over 15 per cent of Opec's output.
Located in the eastern part of the Empty Quarter desert along the western Gulf coast, Ghawar pumps nearly five million bpd of the top quality light crude and around 2.5 billion cubic feet per day of natural gas.
The field's production reached a peak of about 5.7 million bpd by 1981 — a world record for continuous production in a single field — but output was reduced later that decade due to declining global demand. Still, the field's current, sustained five million bpd output is unrivalled.
"Since its discovery during 1940s, enormous Ghawar has kept oil experts on their toes. In mid-2007, the Ghawar Integrated Assessment and New Technology (GIANT) team, an interdepartmental group working on a long-term, visionary endeavor to better understand and characterize the oil field, came across an interesting finding while looking at ways to maximize the reservoir's oil recovery percentage," said Saudi Aramco, which controls the Kingdom's hydrocarbon sector and is the largest oil producing firm on earth.
"The researchers found an extensive micro-pore system of hidden passages in carbonate rock, where a significant percentage of unrecovered oil resides. Today, the GIANT team is analysing this newfound potential and finding ways to tap into the as-yet untapped world below."
In a study published in its quarterly bulletin Dimensions, Saudi Aramco said Ghawar is divided into five areas, discovered individually: 'Ain Dar (1948), Haradh (1949 — located in the southernmost part of the field), 'Uthmaniyah (1951), Shedgum (1952) and Hawiyah (1953).
The giant reservoir is around 280 kilometers long and 40 kilometres wide, encompassing nearly 11,200 square kilometers.
"Saudi Aramco continues to pump about five million barrels of Arabian Light crude oil from Ghawar reservoirs every day….it also pumps 2.5 billion cubic feet per day (cfd) of natural gas from the field in association with the production of oil, and another four billion cfd of non-associated gas, produced from independent gas reservoirs beneath but not part of Ghawar's oil-bearing formations….so, by all measures, Ghawar — the 'crown jewel' for Saudi Aramco and the Kingdom — is an awesome asset and is still the world's largest oilfield," it said.
"Ghawar has all the stuff to be a super producer: high porosity of its reservoir rock, which means there is an abundance of rock pores, or spaces, for holding oil; high permeability, meaning many natural channels allowing oil to flow through the rock; valuable light rather than heavy oil; and high recovery potential."
Relating the field's history, the study said the original realisation of Ghawar's existence was a "kind of educated hunch."
In 1940, while the Abqaiq prospect was being drilled, a young geologist — Ernie Berg — was spending his second field season mapping adjacent quadrangles on the edge of the Empty Quarter, according to Dimensions.
Berg mapped the dry river bed known as Wadi Sahaba in the Haradh area and noticed that it took a sharp turn to the south from its normal east-west course for no reason apparent to the naked eye, it said.
After measuring and plotting a large enough area to see a trend, it became apparent that the wadi was diverted by a broad, low-relief dome, the surface expression of a much larger subsurface dome or anticline.
It said Aramco geologist Max Steineke, who was the driving force behind the first commercial discovery two years earlier in Dammam, came into camp the next day and agreed with Berg that the Haradh structure was potentially significant.
"In fact, it turned out that Berg's map was the first to delineate a structure in the Ghawar field and was therefore what geologists would call the 'discovery Map' for that field…..with the onset of World War II, the difficulties of getting supplies and the loss of men to the war effort, wildcat drilling was suspended….however, a shallow-drilling campaign designed to confirm geologic structures based on Berg's and other geologists' maps was continued," it said.
"The shallow drilling confirmed Berg's subsurface anticline at Haradh and was continued northward, confirming a continuous anticline stretching from Haradh to 'Ain Dar and Shedgum."
The study said that after World War II and with the resumption of drilling, the most obvious location to resume wildcat drilling was the 'Ain Dar structure because of its proximity to producing facilities at Abqaiq.
"Ain Dar No. 1 was completed in July 1948 and put on production in early 1951 at an extraordinary rate of 15,600 bpd of dry oil, meaning without water contamination….Ain Dar No. 1 was a significant discovery for Aramco, but nobody knew how significant it would become," it said.
"These discoveries pointed toward the existence of one continuous reservoir with a common oil/water contact, which was designated as Ghawar Field in 1952.
Ghawar — the Bedouin originally called the pasturage area 'El Ghawar' — remains the largest single oil field on Earth. Not only is Saudi Aramco getting most of its oil production from Ghawar but also most of its daily raw gas feed."
Located about 100 kilometres southwest of Dhahran and 200 kilometres east of Riyadh, Ghawar was not included in Saudi Aramco's latest development programme for other key oilfields within its ongoing plans to expand its oil output capacity by 1.3 million bpd to 12.5 million bpd at the start of 2010.
Experts said the field has passed through several phases of development over the past decades and any new development schemes would primarily focus on maintaining its present capacity and boosting recovery rates.
Saudi Arabia, Opec's de facto leader which pumps almost a third of the group's crude supplies, has over 300 recognised oil reservoirs.
But around 90 per cent of the country's oil production comes from a handful of major fields discovered between 1940 and 1965. They include Ghawar, Abqaiq, Safaniya, Manifa, Khursaniyah, Shaybah and Khurais.
Follow Emirates 24|7 on Google News.