ENOC completes first fully solar-powered lubricants blending plant in UAE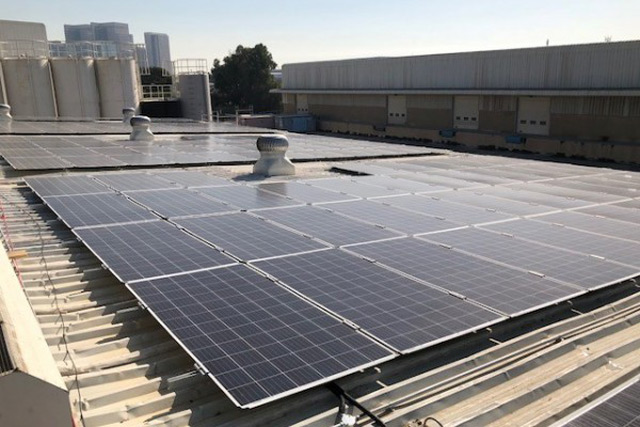 ENOC Group has recently converted its Lubricants and Grease Manufacturing plant (DLPP) located in Jebel Ali, to fully operate on solar energy. The completion of the first solar powered lubricants blending plant in the UAE underlines ENOC's efforts to leverage renewable energy to power its assets, in line with the Dubai Integrated Energy Strategy 2030 (DIES).
The project completion was announced during the 20th Water, Energy, Technology and Environment Exhibition (WETEX), organised by the Dubai Electricity and Water Authority (DEWA) from 23rd to 25th October, at the Dubai International Convention and Exhibition Centre.
More than 300 photovoltaic solar PV panels have been installed on the roof of the 1,000 square metre warehouse, which will generate over 160,000 kwh/year of electricity, sufficient to meet the annual electricity consumption of DLPP. Excess electricity will be transmitted back to the DEWA grid.
Saif Humaid Al Falasi, Group CEO of ENOC, said, "As the energy partner committed to fuel the growth of Dubai and the UAE, we are continuously looking for opportunities to contribute to the development of the country's assets and key infrastructure projects, while aligning our strategic goals with the UAE's larger mandate aimed at diversifying the energy mix."
Based on 2016 consumption figures, DLPP consumes 156,700 kwh/year of electricity, which will now be fully produced on-site through the solar panels. This will contribute to a yearly saving of over 160,000 kwh electricity, which is equivalent to powering at least seven residential houses for a whole year in Dubai (based on 2017 data).
"Over the years, we focused on utilising clean energy sources that will help reduce our dependence on fossil fuel generated electricity and minimise environmental impact. The installation of solar panels at DLPP makes it the first facility of its kind in the UAE, which will generate clean energy on-site. This will further enhance the operational efficiency of the plant and help us achieve new benchmarks in resource management," added Al Falasi.
ENOC's initiative complements the Dubai Clean Energy Strategy 2050, which aims to achieve 7 percent of Dubai's energy needs from clean energy sources by 2020, 25 percent by 2030 and 75 percent by 2050. Supporting this, ENOC has already been building solar powered service stations with the first station opening in 2016. Today, ENOC operates nine solar powered service stations across Dubai and has previously announced its plans to power all future service stations by solar PV panels.
ENOC estimates more than 23 GWh of solar energy will be generated to power the new stations by 2020, minimising the load on DEWA's grid. The continued investment in solar energy by ENOC adds to its competitive strength and will serve as a benchmark for further driving the nation's energy sector.
A Strategic Sponsor of WETEX 2017, ENOC is showcasing solutions that support environmental sustainability and promotes energy efficiency across its Group-wide operations.
Follow Emirates 24|7 on Google News.