ENOC Group opens third solar-powered service station in Discovery Gardens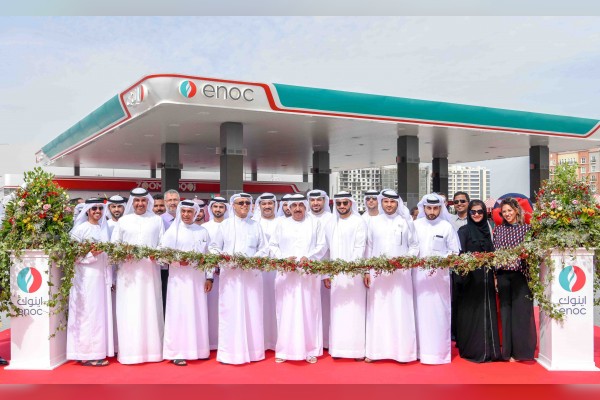 ENOC Group has opened its third solar-powered service station for the year, in Discovery Gardens a residential community in Dubai as part of its expansion plans aimed at building 54 service stations by 2020.
Saif Humaid Al Falasi, Group CEO of ENOC, said, "Our new station marks the opening of the UAE's third solar-powered service station, which falls in line with our commitment to adopting innovative practices to enhance operational efficiency. At ENOC, we keep abreast of major technological developments that can be utilised to drive energy savings, reduce carbon emissions and contribute to a sustainable future.
"We remain committed to providing our customers with easy access to fuel and other retail requirements to a growing community while strengthening our local presence."
The new 75,004 sq ft station offers a range of automotive services including a Tasjeel Centre with three bays for vehicle testing and registration, three Autopro bays, which offer battery and oil change and all automotive services, three Prowash car wash bays, including manual and auto wash as well as EV charging stations.
The station has photovoltaic, PV, solar panels with an on-grid system installed on the canopy roof that can produce a peak capacity of 120 Kilowatt per hour, kWh, energy on an ideal day generating approximately 30 percent more than the average energy required to run the station. Built in line with the Dubai Municipality's Green Build regulations, the excess power generated is transmitted back to DEWA's main grid through a Dubai Electricity and Water Authority, DEWA, solar meter that tracks the power injected to the power grid.
The forecourt is equipped with six dispensers with a multimedia option and a fuel system designed to cater maximum flow rate as per the National Fire Protection Association, NFPA, safety standards. To factor in the waiting time inside the service station, dispensers are built with retractable hoses to enable refuelling of cars from both sides.
The station is also equipped with the Vapour Recovery Systems, VRS, to prevent and control emissions, full LED lights installed at the site to reduce energy consumption by 50 percent and a VRF technology for the air conditioning, AC, system, which saves 35 percent compared to conventional package AC system.
ENOC had previously announced that all future ENOC service stations will be powered by solar energy to support the UAE's long-term strategy to target an energy mix that combines renewable, nuclear and clean energy sources. ENOC estimates more than 23 GWh of solar energy will be generated to power the new stations by 2020, minimising the load on DEWA's grid and power generating stations.
Follow Emirates 24|7 on Google News.