Etihad Airways expands capacity to Kerala, India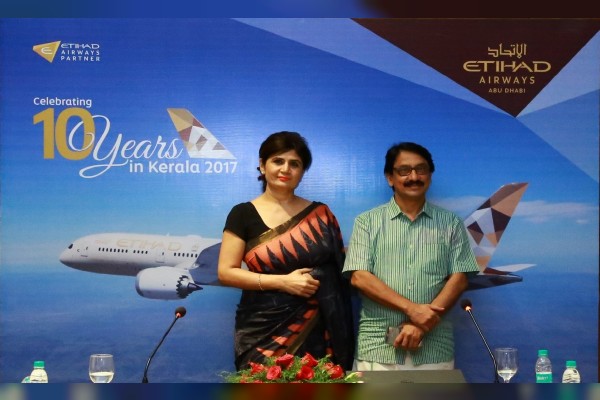 Etihad Airways today announced additional flights to mark the 10th anniversary of its southern Indian state of Kerala-bound operations.
The airline has launched a fourth daily non-stop service between Kozhikode and its Abu Dhabi hub offering convenient onward connections to cities worldwide.
The extra capacity takes to 63 the total number of weekly services between Abu Dhabi and its three Kerala gateways of Kochi, Kozhikode and Thiruvananthapuram.
This represents over 30 percent of Etihad Airways' frequencies from across 11 Indian cities it serves.
Since Etihad Airways' first flight to Kerala on 31st May, 2007 when it inducted services to Thiruvananthapuram, followed two days later by the inaugural Kochi flight, the airline has flown almost 3.5 million guests to and from the state.
The Kozhikode route was launched on 1st August, 2008.
The current capacity includes four flights a day to Kozhikode; thrice-daily to Kochi and double daily to Thiruvananthapuram.
The Kerala flights are operated with a mix of Airbus 320 and A321 aircraft featuring up to 16 seats in Business Class and 158 in Economy.
In addition, strategic Indian partner Jet Airways operates seven flights a week from Kochi to Abu Dhabi. The services largely cater to the huge expatriate population from all three Kerala cities and the surrounding areas, living and working in the Gulf region.
Addressing media at a briefing in Thiruvananthapuram today, Neerja Bhatia, Etihad Airways Vice President Indian Subcontinent, said, "With our multi-frequency scheduled flights to and from Kerala, Etihad Airways has demonstrated a commitment to this vibrant state by offering convenient global access and boosting the domestic tourism industry.
"We have been able to bring the world closer to this beautiful state and connect the people of Kerala to destinations in the Gulf, including our Abu Dhabi home, which has also been the base for thriving ventures by Kerala business houses. Reaching a 10-year milestone is fitting tribute to the support Etihad Airways has received from the state government of Kerala in making our operations a success."
Dr. Venu Vasudevan, Principal Secretary Kerala Tourism, said, "Kerala Tourism is delighted to learn of the extra flights launched by Etihad Airways, which adds more connectivity to Kerala. We congratulate Etihad Airways on a decade of flying to Kerala and look forward to conducting several joint initiatives to promote the many diverse destinations across our state."
Etihad Airways' Indian network to and from Abu Dhabi covers Ahmedabad, Bengaluru, Chennai, Hyderabad, Jaipur, Kochi, Kolkata, Kozhikode, Mumbai, New Delhi and Thiruvananthapuram with a total of 194 flights each week.
Jet Airways offers the additional Indian cities of Pune, Lucknow, Mangalore and Goa to Abu Dhabi, as well as numerous domestic connections. Combined, both carriers operate over 250 flights each week between Abu Dhabi and 15 Indian cities.
Follow Emirates 24|7 on Google News.