Etihad and Jet Airways sign landmark tourism agreement with Government of Maharashtra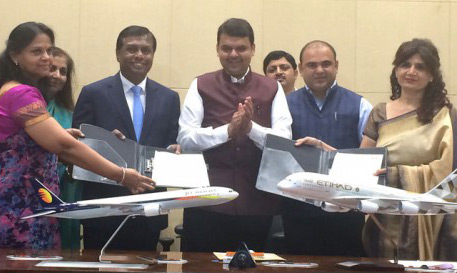 Etihad Airways, the national airline of the United Arab Emirates, and strategic partner Jet Airways, India's full-service premium international carrier, have signed a ground breaking agreement with the Government of Maharashtra to promote tourism to the western Indian state.
The partnership will enable both airlines to capitalise on their strong links with Maharashtra and further propel domestic and international arrivals into the state capital Mumbai and beyond. It is the first time an Indian state has signed a tourism collaboration agreement with the airline sector, Etihad Airways said in a joint press release.
Under the agreement, the three entities will pool marketing resources to participate in travel-trade events in key international markets such as the UK and the UAE; jointly promote 'Destination Maharashtra' through advertising campaigns; and organise inbound familiarisation trips for media and travel agents.
Etihad Airways and Jet Airways are key contributors to India's thriving travel and tourism sector carrying the biggest combined share of international traffic to and from India with one in five travellers choosing either carrier.
Collectively, they operate five flights a day between Abu Dhabi – the UAE carrier's operational hub – and Maharashtra's main international gateway of Mumbai with domestic connections across the country. In addition, Jet Airways flies daily between Maharashtra's second largest city of Pune and Abu Dhabi.
Maharashtra, the third largest state in India, is one of the country's most popular tourist destinations. Mumbai ranks second after the Indian capital Delhi in terms of first port of entry for foreign tourist arrivals into India, and fifth in domestic tourist visits.
Commenting on the association, Shri Jaykumar Rawal, Minister of Tourism, Government of Maharashtra, said, "This MoU is the beginning of a strategic partnership with two leading and most important international airlines to attract as many international tourists as possible. Together, we can create benefits for travellers and shareholders. Our aim is to jointly put in place the best strategies and practices to increase Maharashtra's marketing footprint and position it as the most preferred destination."
Smt. Valsa Nair Singh, IAS, Principal Secretary, Tourism and Culture, Government of Maharashtra, added, "This is a landmark agreement that will provide valuable support for Maharashtra Tourism's global campaigns and marketing activities, as well as some of the industry's most important trade and business events. This unique and important partnership between Maharashtra Tourism, Etihad Airways and Jet Airways will boost the state's image exponentially."
James Hogan, Etihad Aviation Group President and Chief Executive Officer, said, "Being part of one of the world's largest economies, Maharashtra has plenty to offer business and leisure travellers. We are therefore delighted to expand our links to promote tourism to this vibrant state, which we have been serving with dedicated flights for 13 years.
"This is the first time a state government in India has ventured into such a tourism partnership with the airline industry, hence we appreciate the opportunity to work with our strategic Indian partner Jet Airways on the breakthrough agreement. Our combined operation with Jet Airways between Abu Dhabi and Mumbai, complemented by Jet's widespread domestic services, is further testament to the importance of Maharashtra on our route map."
Naresh Goyal, Jet Airways Chairman, added, "It is a moment of both pride and honour that the Government of Maharashtra has chosen to join hands with Jet Airways and our strategic partner Etihad Airways in this unique initiative of leveraging our collective resources to strengthen travel and tourism to the state.
Maharashtra is home to a diverse range of tourist attractions, from beaches, caves, forts, wildlife, tiger reserves, national parks and hill stations, to monuments, palaces, festivals, places of worship and adventure sports.
Mumbai, the international gateway to Maharashtra, is the country's financial hub and home to numerous museums, architectural heritage and Bollywood, the world's largest film industry in terms of movie production.
Since Jet Airways began operations from Mumbai in 1993, the airline has flown millions of guests to and from its main hub over the past 24 years.
Follow Emirates 24|7 on Google News.