Etihad to have onsite medical facility for staff visa applications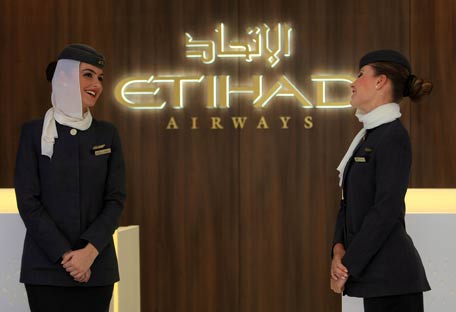 Etihad Airways will become the first company in Abu Dhabi with an onsite medical facility to support the visa application process for thousands of employees and their dependents in the UAE.

An agreement was signed today with Ambulatory Healthcare Services (Seha), to operate the facility and provide visa medical services, such as X-Rays, blood tests and physical examinations, for approximately 45,000 Etihad Airways employees and 7,000 dependents by 2018. The facility, located at Etihad Plaza in Khalifa City, Abu Dhabi, will open in August 2015.

Dr. Nadia Bastaki, Vice-President Medical Services at Etihad Airways, said, "Etihad Airways and its subsidiaries are expected to have more than 30,000 employees based in the UAE by 2018. As one of the country's largest employers, we pride ourselves on offering best-in-class services to our fast-growing workforce of Emiratis and expatriates.

"This onsite visa medical centre will reinforce Etihad Airways as an employer of choice, allowing new employees and those renewing visas in the UAE to undertake their mandatory medical examinations in a modern, comfortable and exclusive environment at our head office complex, while minimising the time taken away from work. It will form a vital component in our health and wellbeing offering, and we are delighted to work with Seha on this project."

Dr. Mariam Buti Al Mazreoui, Acting Chief Executive Officer at Seha, said, "We at Ambulatory Healthcare Services are committed to ensuring that our partners have easy and convenient access to our services, especially when it comes to services that are high in demand, such as the visa medical services. As part of this priority, AHS continues to broaden its healthcare network in tune with the evolving requirements in order to provide our clients with a seamless experience and maximum convenience."

The facility is the latest addition to the airline's extensive range of health and wellbeing services for employees based in the UAE capital, and follows the introduction last year of a staff ambulance service and travel clinic for those travelling for work purposes. A dedicated 'Care by Etihad Airways' service, which provides welfare support to the airline's crew and pilots, will be extended to all staff and their dependents later this year.

Abu Dhabi-based employees also have access to world-class medical care at the Etihad Airways Medical Centre, including full laboratory services, physiotherapy, radiology, dental, nutrition counselling, ENT services, primary care, and aviation health services.

The centre, which is regulated by Health Authority, Abu Dhabi (HAAD) and the UAE General Civil Aviation Authority (GCAA), was awarded the 'Clinic of the Year 2013' by the GCAA in recognition of its status as one the leading aero-medical centres in the UAE. It is also located at Etihad Plaza and staffed by nearly 30 medical experts, including 10 fully-qualified doctors.
Follow Emirates 24|7 on Google News.