Etisalat, Miral sign deal to offer public wi-fi on Yas Island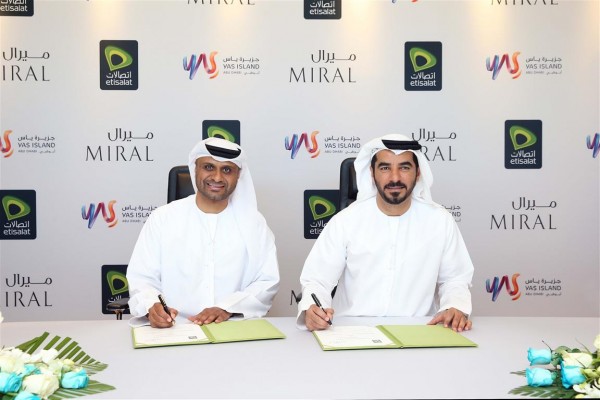 Visitors to Abu Dhabi's Yas Island will enjoy access to high-speed internet connection, enabling them to text, browse, chat and stream videos easily without any advertisements or pop-ups, thanks to a new strategic partnership signed between UAE's telecoms group Etisalat has and Miral, the entity responsible for the development and promotion of the Island as a destination for leisure, business and entertainment.
The service will be available to both UAE residents and tourists with international mobile numbers, and accessed through the 'UAE Wi-Fi by Etisalat' network, to provide visitors with public wi-fi.
The strategic project will be rolled out across Yas Island, connecting residents and visitors at all of the island's various leisure and entertainment assets.
The partnership aligns with the country's 'smart' vision which focuses on delivering wi-fi coverage across all UAE regions, including Abu Dhabi, Dubai and Northern Emirates. Integrating the most advanced technologies, residents and visitors can look forward to seamless and secure internet access once the service launches, Etisalat said in a statement.
"Today the country has the most connected networks in the region due to the long term vision of our leadership. Etisalat has continuously invested in building a superior telecom network to enable connectivity for all residents. We are proud to be associated with this prestigious project that will set a path to enable our network on the entire Yas Island which is one of the best world class destinations today," said Jamal Saeed Al Nuaimi, General Manager of Etisalat-Abu Dhabi.
"This strategic partnership with Etisalat comes in line with our continuous efforts to develop the infrastructure of Yas Island to make it a world-class travel and tourism destination," said Mohamed Abdalla Al Zaabi, CEO of Miral.
Follow Emirates 24|7 on Google News.