Etisalat reports AED4.3 billion in H1 net profit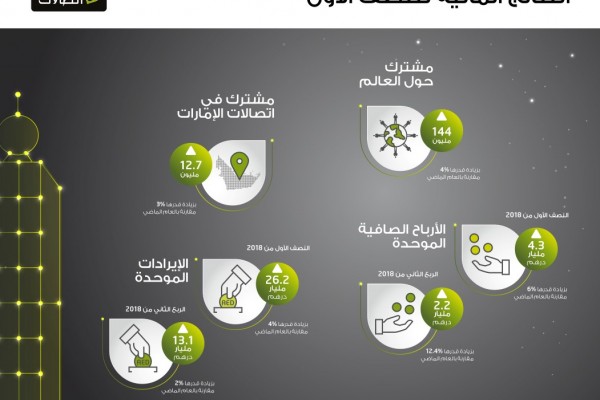 Etisalat Group has posted consolidated H1 net profit of AED4.3 billion ($1.17 billion), representing a six percent increase year over year.
The Group's consolidated revenues for first half of 2018 amounted to AED26.2 billion representing a 4 percent increase year over year.
Essa Mohamed Al Suwaidi, Chairman of Etisalat Group, said: "Etisalat Group's financial performance of the first half of this year showcased its ability to innovate and lead in the telecom and digital services arena."
"We will continue to be technology leaders and our recent 5G commercial launch is another testament of our efforts, allowing us to tap into promising opportunities that will enable greater benefits for all segments of customers. The financial performance continues to lay a solid foundation for investment, hence, enabling Etisalat to introduce solutions that will reshape the industry and change the business operating dynamics.'' "I would like to thank the wise leadership of United Arab Emirates for their continuous support and the Etisalat management team in making the digital vision a reality by staying focused on the company's long-term strategy to drive stakeholder value. Thanks to both our supportive shareholders and loyal customers for inspiring us to set new global benchmarks and reach new business heights," he added.
Saleh Al Abdooli, CEO, Etisalat Group, said: "Etisalat Group's financial results in the first half of 2018 is an outcome of our sincere efforts to drive growth and generate efficiencies, with an unwavering commitment to key strategic priorities that will enable a digital future, transform the ecosystem, and drive digital innovation across our operations."
"We are proud that Etisalat was the first telecom operator to successfully launch the first 5G Ultra-Mobile broadband experience in the region, and through our partnership with Expo 2020 Dubai, the latter became the first 5G major commercial customer in MEASA. Such collaboration is a declaration of a new era of digital connectivity, and an acknowledgment of 5G's rich anticipated potential.
Follow Emirates 24|7 on Google News.