Expo 2020 Dubai teams up with DEWA to develop sustainability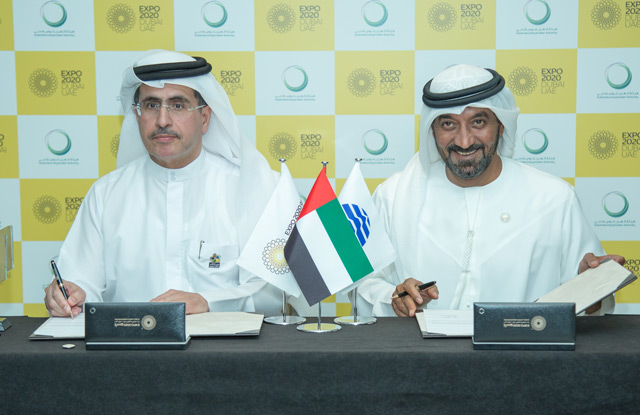 Expo 2020 Dubai has signed a Memorandum of Understanding (MoU) with Dubai Electricity and Water Authority (DEWA) to become an Official Sustainable Energy Partner.
DEWA and Expo 2020 Dubai have formed a national partnership to maximise the use of clean energy and deliver a sustainable World Expo.
DEWA will provide Expo 2020 Dubai with electricity and water from October 2020 to April 2021, excluding the electricity that will be generated at Expo's site.
Expo 2020 Dubai aims to have 50% of its power needs supplied from a variety of renewable energy sources, including ground-breaking projects of its own, such as the Sustainability Pavilion.
DEWA is working with Expo to deliver renewable energy, electricity and water projects.
These will enable DEWA to build an excellent electricity infrastructure that meets Dubai's development needs.
DEWA has launched a wide variety of initiatives to support this, allocating AED 3 billion to these projects, which will be implemented according to the highest international standards.
DEWA is contributing to the development of all Expo 2020 Dubai's facilities and services with its smart initiatives, in line with the Smart Dubai initiative launched by HH Sheikh Mohammed bin Rashid Al Maktoum, Vice President and Prime Minister of the UAE and Ruler of Dubai, to make Dubai the smartest city in the world.
DEWA is building a smart grid to become the first network in the world to provide the entire value chain of generation, transmission, and distribution systems to the Expo.
DEWA's Mohammed bin Rashid Al Maktoum Solar Park will provide Expo 2020 Dubai with a dedicated capacity of 400 megawatts of electricity.
DEWA is also building three 132/11kilovolt (kV) substations, with 45 kilometres (km) of high-voltage (132kV) cables.
The total cost of DEWA's electricity projects to support Expo 2020 Dubai will be AED 420 million. The substations are called Sustainability, Mobility and Opportunity, named after the three subthemes of Expo 2020 Dubai.
"We share many of the common goals of DEWA, especially in the realm of sustainable energy, and it is fitting that we will be working together," said His Highness Sheikh Ahmed bin Saeed Al Maktoum, Chairman of the Expo 2020 Dubai Higher Committee.
"Together we will work on ensuring the environmental impact of Expo is kept to the minimum possible. We have moved from the relationship of client-supplier to that of partners.
"This agreement opens up many opportunities as we share knowledge and experience in a joint effort to maximise our reliance on clean energy, such as solar power."
His Excellency Saeed Mohammed Al Tayer, Managing Director and CEO of DEWA, said the MoU with Expo 2020 Dubai was important as it supported the UAE's strategy to increase the use of clean energy.
"We are working according to the vision of His Highness Sheikh Mohammed bin Rashid Al Maktoum, Vice President and Prime Minister of the UAE and Ruler of Dubai, which is explained in the Dubai Plan 2021," said Al Tayer.
"This will result in Dubai having the lowest carbon footprint in the world, and advance the Emirate's position as a smart, competitive, integrated and interconnected city, with a high-tech infrastructure to boost our social and economic development, and be counted among the world's best."
"We are committed to driving sustainability, which is a major pillar for Expo 2020 Dubai. DEWA has dedicated a large part of its budget for its clean energy projects to align to the Dubai Clean Energy Strategy 2050 to generate 7% of Dubai's total power output from clean energy by 2020, 25% by 2030, and 75% by 2050."
Follow Emirates 24|7 on Google News.