Ford and GM develop hands-free office apps for cars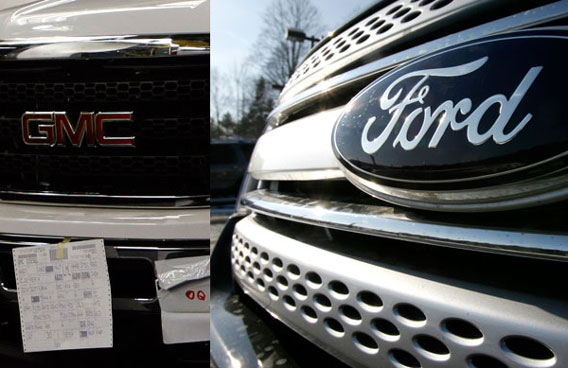 Using tech to work while you drive is a great concept. But for the time being, it's widely accepted that sending and checking e-mail or texting while behind the wheel is very unsafe.
The temptation is great, of course, to sneak a peak at your Blackberry or iPhone to check messages or to take a call, especially when stuck in stop-and-go traffic, even though it is illegal to do so in many states and despite the tremendous risk. According to the results of a Pew Research Center survey, 27 percent of all American adults sent or read text messages while driving in 2009.
However, General Motors and Ford are developing alternatives they say will allow drivers to continue working safely while behind the wheel. With voice-enabled commands, drivers should eventually be able to check e-mail or text without posing dangerous risks to themselves or others, Ford and GM say.
Ford's Sync infotainment system currently allows for selected smartphone applications to run on a dashboard console. At the Consumer Electronics Show earlier in January, for example, Ford unveiled its MyFord Touch for Sync. The system, among other things, allows drivers to select music and routes for GPS-guided navigation on dual 4.2-inch LCD screens with corresponding five-way button steering wheel controls and an 8-inch touchscreen. But specific to office and work applications, Ford's Sync should allow drivers to do a lot more during the coming years, company executives say.
Within three to five years, Ford expects to develop an application for Sync that will read e-mail and text messages out loud as they are received, the company told PCWorld. The system should also allow drivers to dictate e-mails and text messages into the on-board computer hands-free while driving.
GM says it is developing a voice communications app for Android mobile phones that will let drivers send and receive text messages and Facebook updates using only their voices. The app uses a Bluetooth connection between drivers' phones and their vehicles.
GM's voice-activated Android system converts incoming SMS text messages and Facebook updates from text to synthetic speech with the app. The messages are then sent via Bluetooth to the car's speakers. Drivers can respond by voice through the in-vehicle microphone by selecting among a list of defined messages, such as "Yes," "No," and "Driving." It is also possible for the system to memorize custom messages, which are transcribed into text or posted as audio clips on Facebook, GM said. For Facebook updates, the driver can say "Like" to like a friend's update.
For text messages, the "Call Back" voice command automatically dials the phone number associated with the incoming message. It's also possible to set an automatic reply to all incoming messages, such as: "I'm on the road until 3 p.m. and can get back to you then."
The system will require a mobile phone running Android 2.2 or higher, a GM vehicle with built-in Bluetooth, or a vehicle equipped with a new OnStar system when it becomes commercially available. GM said it's planning the full launch for later in the first half of 2011 through the Android Market, while pricing has yet to be disclosed.
The voice-activated systems Ford and GM are developing remain limited compared to the functionality that PC and even mobile phone-based applications offer, of course. But in an area long-dominated by luxury-car brands such as Audi, BMW, Lexus, Mercedes, and Lexus, it is likely that Ford's and GM's upcoming in-car technologies will set the bar higher for in-car office apps that could also be available for an affordable price.
Follow Emirates 24|7 on Google News.