France sees more joint defence ventures with UAE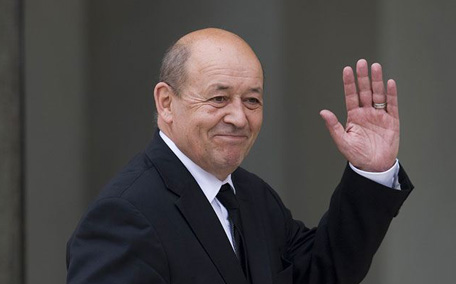 French defence companies have proposed the establishment of new joint defence projects with the UAE and such ventures are fully backed by their government, France's defence minister Jean Yves Le Drian has said.
In comments coinciding with the International Defence Exhibition (Idex), whcih started in Abu Dhabi on Sunday, Le Drian said cooperation between the UAE and France is already strong and dates back to early 1970s thanks to the vision of the late Sheikh Zayed bin Sultan Al Nahyan, the founder of the UAE.
He said France has been a "trustful and reliable" partner for the UAE and has kept improving its support to country's armed forces through training, joint exercises and operations, transfer of operational know-how and provision of defence equipment."
He noted that this strong and strategic relationship, based on a common world-view and a community of interests, led to the signature of the landmark 1995 defence agreement between the two countries.
He said the pact was updated in 2007 and the decision to install a French military base in Abu Dhabi taken in 2009. Effective since 2012, the permanent presence of French military assets is a multiplier of "our bilateral military cooperation."
"On the industrial cooperation side, the trust built between the two nations had led to major successes in the field of defence equipment," he said.
"For the future, French companies have understood the evolution of the Emirati economy and the willingness of the Crown Prince to develop an industry around high technologies. French authorities are already supporting some very competitive proposals of our companies. I hope that some new projects will materialise in order to consolidate our bilateral relationship in the defence field."
Le Drian said France is heavily participating in Idex 2013, with more than 70 French companies showing their latest products, adding that they are located either on the French pavilion or having their own booth on both sides of Idex and Navadex.
It also includes the participation of French Army which is exhibiting its latest capabilities in the field of satellite tactical communications and future soldier's equipment, he said.
"An important delegation of French officials is taking part in Idex and Navadex with the objective of supporting and promoting, when necessary, technologies and products developed for our own armed forces, combat proven and in-use on various military theaters all over the world especially in the Mena region," he said.
About France's ties with the GCC, he said the Gulf group's security remains a "legitimate" subject of interest for France, adding that Paris has developed defence partnerships with many GCC countries.
"Signing arms contracts remains a strong signal of the vitality of these partnerships......we have the intention to be present in all sectors related to the defence needs of our partners in the Gulf," the Minister said.
"We have many ongoing discussions in the different areas where the French industry has demonstrated its excellence and know-how. Ongoing negotiations with countries within GCC involve satellites, the Rafale combat aircraft,Tiger or NH90 helicopters, the air defence systems based on Aster or Mica missiles, armoured infantry vehicle VBCI or CAESAR canon, the FREMM multi-mission frigate, C4I systems."
Asked about France's arms exports, he said new orders worth around 6.5 billion Euros were secured in 2011, describing France as one of the five leading world exporters of Defence and Security equipment.
He said the GCC and other countries in the Middle East accounted for nearly 26 per cent of France's defence exports in 2011, making Mena one of the most important markets from his country's arms sales.
"However the Asian and Pacific region demand keeps growing and represents 42 per cent of our exports in 2011, making this region our first customer," he added.
Follow Emirates 24|7 on Google News.