'Google Trends present accurate picture'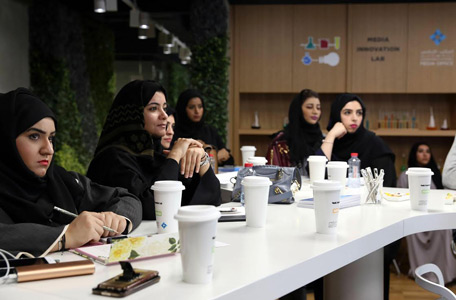 The Government of Dubai Media Office (GDMO) hosted a workshop by Joyce Baz, Google's Regional Communications Manager in the Middle East, on Google research tools for the media.
The workshop was the latest in GDMO's Media Innovation Lab series of events.
One of the key focuses of the workshop was to explain how Google Trends can be used to generate insights on what people are searching for on Google.
Attendees at the workshop included officials from some of Dubai's leading government organisations.
Baz elaborated on how Google Trends helps connect the dots between what happens in the real world and how people search for information online.
The presentation threw light on how Google Trends can help media discover useful datasets to help develop stories that present an accurate picture of reality.
Noora Al Mansoori, Senior Manager of Strategic Communications at Government of Dubai Media Office, said: "The Media Innovation Lab seeks to bring together leading experts to discuss media-related innovations that are reshaping the industry. Events like these are part of GDMO's efforts to support the UAE's objective of promoting innovation to further raise its global competitiveness and enhance diversification.
"Through events like these, we also seek to support professionals in gaining new insights on using advanced technologies to enhance innovation in their organisations."
Baz said that the development of Google's search tools are based on the principle that the perfect search engine should understand exactly what users mean and give them back exactly what they want.
The Google Knowledge Graph, a knowledge base used by Google to enhance its search engine results, is another step towards a perfect search engine, she added.
The Knowledge Graph makes it easy for users to find useful information based on the connections between various Google products and their activity on them. Baz also explained the benefits of various other search tools like Google Scholar and Google Public Data.
Google's search engine crawls 20 billion sites a day, and processes 100 billion searches every month.
On a daily basis, 15 per cent of queries submitted have never been seen before by Google's search engine.
More than 1,000 person-years have gone into developing the Google search algorithm and over 1,000 improvements were made to Google Search in 2015.
Google's Regional Communications Manager also revealed data that shows the increasing role that the Internet and web devices are playing in the lives of people in the Middle East and North Africa (Mena) region.
Users in Mena spend an average of 300 minutes online per day, and as much as 90 per cent of web-users move between devices to complete a task. About 93 per cent of online consumers are discovering a new brand online while 83 per cent under 35 say they can find a YouTube video bout anything they want to learn.
Follow Emirates 24|7 on Google News.