Governments must ensure access to finance for women: Lagarde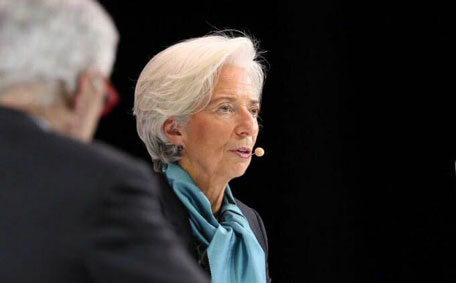 Governments around the world need to urgently remedy the issues of access to finance, education and legal system for women, said Christine Lagarde, Managing Director of the International Monetary Fund (IMF).
Opening the keynote panel discussion at the Global Women's Forum Dubai 2016 today, the IMF chief said: "Rules need to be changed. Three things that require urgent attention are better education, access to finance and the legal system," she said.
The panel discussion was moderated by Olivier Fleurot, Senior Vice-President and Member of P12- Publicis Groupe, France.
"Help women in policy point of view," Lagarde said, citing statistics that among 143 countries surveyed, 90 per cent do not have a legal system to support women.
She commended the UAE's Father of the Nation, the late Sheikh Zayed bin Sultan Al Nahyan and his wife, HH Sheikha Fatima bint Mubarak, for doing an incredibly good job to empower women.
Her advice to women in business and profession is: "Stand for yourselves, do not be submissive, be a champion of others. You should take the view that everyone can succeed."
Lagarde has drawn examples of various women for their spirit of resilience and empowerment and suffering, such as Michelle Bachelet, President of the Republic of Chile, who has come back to power; Angela Merkel, who has been in power for 10 years in Germany; Aung San Suu Kyi of Myanmar, and Queen Rania Abdullah of Jordan.
Tepid Recovery
On the state of affairs of the global economy, Lagarde said the world is witnessing a tepid recovery, of just 3.1 per cent last year to 3 per cent this year and little growth next year. Recovery in the US and Japan may be bigger. But overall, the recovery is 'tepid' she said.
Emerging markets, except India, are either slowing down or showing little growth. Growth in China, Brazil and Russia will be negative this year. Others are facing a new reality of slowdown. China is moving from heavy manufacturing to light manufacturing. The fundamentals of the Chinese economy are changing and we see a new approach to governance. There is a massive transition, a multi-layer transition, she added.
Follow Emirates 24|7 on Google News.