'Great Place to Work' reveals UAE's 'top companies to work for'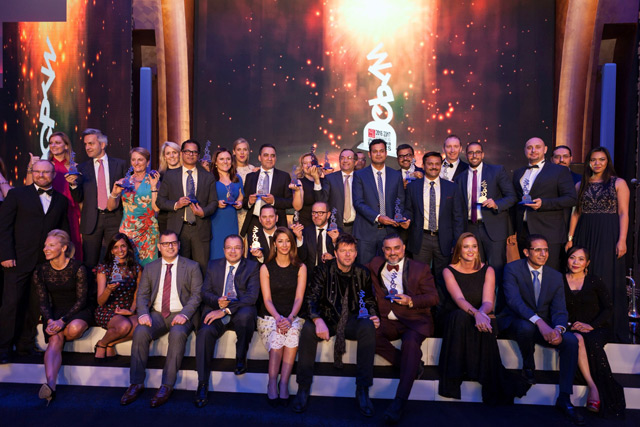 Great Place to Work - a global research, training and consultancy firm that recognizes the best workplaces in over 50 countries worldwide - has revealed its seventh annual list of 'Top Companies to Work For' in the UAE. The 2016-2017 UAE list is the largest yet for Great Place to Work and recognizes the top 24 companies with outstanding workplace cultures.
Maintaining the number one position on the annual benchmarking list for the fourth consecutive year is DHL.
The logistics company provides a family experience that makes employees want to stay and prosper within the organization.
It places people first, above any other business practice, understanding that a motivated and engaged workforce is a productive and profitable one.
DHL prioritizes living by its core values, nurturing employee development, creating a fun work environment, being transparent, listening and acting on employee feedback and celebrating successes.
But what created the competitive advantage is DHL's close monitoring of the application of these HR practices and policies, leaving no room for deviation or bias.

This year's runner-up was Omnicom Media Group, which advanced one spot from last year, followed by Splash which also moved up one spot to take third. In fourth place was THE One, a position it has held since the list was launched, while Weber Shandwick came in fifth, climbing two places from 2016.

Ranking from sixth to 10th place on the list were Estee Lauder Companies, HILTI Emirates, FedEx, Hilton and MARS respectively.
Rounding out the final 14 positions on the list were Biz Group, Hyatt, Eros Group, WSP | Parsons Brinckerhoff, Leminar, UAE Exchange, Al Fakher Tobacco, Dulsco, NMC Healthcare, Philips, Delta Partners, Danzas AEI Emirates, Mundi Pharma and Redington.

"The expansion of the 2016-2017 list is testament to the value UAE companies place on human capital development.
Despite a challenging financial year, most companies that have been on the list previously maintained their position as great workplaces.
This is an impressive accomplishment considering the high level of participation we had this year and the number of new companies entering the list. It's great to see these organizations put into practice the lessons they have learnt from going through the Top Companies process. We're definitely seeing a marked improvement in the standard of HR practices," said Maha Zaatari, Managing Director of Great Place to Work in the UAE.
As the UAE works towards becoming the world's happiest nation, Great Place to Work says employers are starting to recognize the crucial role their companies can play in achieving this goal.
"We are seeing among the Top Companies a greater emphasis on CSR initiatives as employers respond to employees' desire for meaning, to be part of something bigger.
People who have meaning and purpose in their lives are happier, feel more in control and get more out of what they do. They also experience less stress, anxiety and depression. Happiness in the workplace is carried into the home and the wider society so it really is a foundational piece in building the happiness of a nation," said Zaatari.
In addition to its awards for overall workplace excellence, Great Place to Work gave special recognition to Mr. Elie Khouri, CEO of Omnicom Media Group.
Khouri was recognized as 'Leader of the Year for 2016-2017' for his efforts in keeping Omnicom Media Group on the Top Companies list for seven years and for achieving the highest Trust scores from direct reports amongst all leaders in the Top Companies program.
His efforts to continuously improve Omnicom's workplace experience has elevated employees' perception of management and bettered the financial and non-financial performance of the company.

The Top Companies to Work For annual benchmarking study assesses the level of credibility, respect, fairness, pride and camaraderie within an organization, and forms part of the world's largest employee survey.
Two-thirds of a company's score is based on the confidential feedback of their employees while the remaining score is attained from an audit of management and HR practices.
The 'Top 24 Companies to Work For in the UAE' are represented by a diverse number of industries including logistics, technology, finance, media, retail, FMCG, fashion, hospitality, healthcare, technology, health & beauty, pharmaceutical and manufacturing.
New list makers among the Top 24 Companies in 2017 include Al-Fakher Tobacco, Biz Group, Danzas AEI Emirates, Delta Partners, MARS, Mundi Pharma, NMC Healthcare, Philips and Redington.
DHL
www.dhl.com
Logistics
Omnicom Media Group
www.omnicommediagroup.com
Media
Splash
www.splashfashions.com
Fashion
THE One
www.theone.com
Retail
Weber Shandwick
www.webershandwick.com
Communications
Estee Lauder Companies
www.esteelauder.com
Health and beauty
HILTI Emirates
www.hilti.ae
Technology
FedEx
www.fedex.com
Logistics
Hilton
www.hilton.com
Hospitality
MARS
www.mars.com
FMCG
BizGroup
www.Bizgroup.ae
Training and Consulting
Hyatt
www.hyatt.com
Hospitality
Eros Group
www.erosgroup.ae
Technology
WSP | Parsons Brinckerhoff
www.wsp-pb.com
Engineering, professional services
Leminar
www.leminargroup.com/
Industrial
UAE Exchange
www.uaeexchange.com/
Finance
Al Fakher Tobacco
www.alfakher.com
Manufacturing and Production
Dulsco
www.dulsco.com
HR & Industrial Services
NMC Healthcare
www.nmc.ae
Health Care
Philips
www.mea.philips.com
Healthcare Technology
Delta Partners
www.deltapartnersgroup.com
Management Consulting
Danzas AEI Emirates
www.dhl.com
ALTAYER
www.altayer.com
Logistics
Mundi Pharma
www.mundipharma.ae
Pharmaceuticals
Redington
www.redingtonmea.com
Supply Chain
Follow Emirates 24|7 on Google News.