iPhone 5s, Galaxy S5 beware: Acer launches Liquid Z5 for just Dh850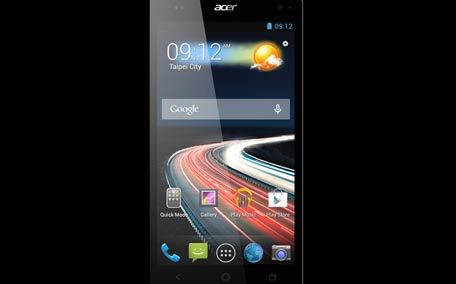 Acer wants to take the bottom out of the features-rich smartphones market – or so it seems.


The Taiwanese smartphones manufacturer today unveiled the Android-based Liquid Z5, a compact 5-inch smartphone designed for first-time smartphone adopters or budget-conscious users looking mainly for mobile browsing, photo and video clip taking anytime and mobile entertaining.

That, in effect, is everything that a smartphone user expects from their phone, never mind the gimmicky software and tricks that manufacturers claim we need. The price-point at which Acer has launched this phone is €169 (Dh845), which literally takes the bottom out of the features-laden smartphones market.

Most of the popular smartphone models today, like Apple's iPhone 5s, the Samsung Galaxy S5, and the HTC One are all above the Dh2,000 price point.

"The Liquid Z5 features an amazing 5-inch screen with 16:9 aspect ratio to enhance movies and video viewing. Despite the large screen size, the Liquid Z5 is thin and easy to carry with its 8.8 mm thin profile and rounded edge," the form says in its media statement this morning.

The phone also hides some other tricks up its silicon sleeve – the Liquid Z5 features four different Quick Mode profiles targeted at different users and age groups. The basic mode (for youngsters with call and text functions); senior mode (messages, radio, weather, magnify, clock, quick call contacts); classic mode (all main functions in a simple and organized layout for first time smartphone users); and keypad mode (for people who primarily use voice and need their keypad right away).

The handset's front speaker is boosted by DTS Sound technology while the AcerRAPID button acts as a personal control key bringing a 'one-hand' control to the user allowing to unlock and/or wake-up the screen, launch the camera, take a picture, launch apps from home screen and pick up phone calls in an intuitive way, it maintains.

The phone comes in a glossy and silky finish design and is powered by Android 4.2.2. "The Liquid Z5 gives users many features per square centimetre at just 145.5 x 73.5 x 88 mm and only 147grams," says Acer.

For beginners at which Acer is targeting the device, the dual-core 1.3 GHz processor and 4 GB of internal user storage should be sufficient although a more sophisticated user who'd like to download some of today's increasingly heavy apps may need more space.

The phone is also equipped with integrated GPS, and a 5-megapixel camera which Acer claims is 'best-in-class snapper'. The camera supports BSI technology which enables more light on sensor than traditional FSI, says Acer, thus delivering better low-light sensitivity.
Follow Emirates 24|7 on Google News.