iPhone 6 Alert: World's slimmest smartphone screen is here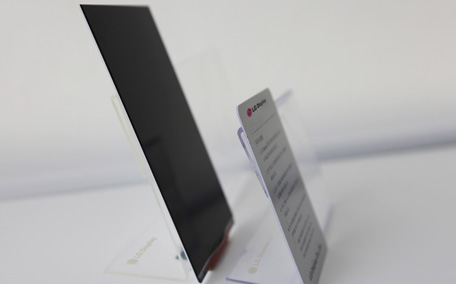 Apple Inc. (NASDAQ:AAPL) remains embroiled with the numerous patent disputes with Samsung.
Even a US Court ruled yesterday that it violated antitrust law in a price-fixing case, saying the Cupertino-based tech giant "conspired to restrain trade" with publishers to boost the price of e-books. READ: iPhone-maker found guilty, vows to fight back.
In addition, Samsung's spearhead smartphone Galaxy S4 seems to be fighting its own set of fires. READ: Samsung Galaxy S4 catches fire while charging.
Grabbing that opportunity with both hands, smart smartphone-makers such as LG are quietly but quickly embarking on a road that made Apple Inc. as successful as it is today – the road to innovation.
This morning, LG Display showcased the world's slimmest Full HD LCD panel for smartphones. The South Korean giant said it will soon unveil the screen in one of its premium smartphones, but did not reveal which smartphone exactly will be the first to sport it.
However, with the company rumoured to launch the LG Optimus G2 in August, to beat the rumoured launch of iPhone 6 (or 5S, as the case may be) in September.
In fact, according to rumours floating around much before LG Display actually unveiled the world's slimmest screen, the LG Optimus G2 will be so thin that it won't be able to sport buttons on its side, and power and volume buttons have been taken off the side of the phone and LG has moved them to the back – which is another first.
Until now, no smartphone maker has seemingly realized that since we hold the phone in our palm, we can use our index finger to control basic functional buttons. Still, it has to be a delicate balance between functionality and, well, complete inanity, and we'll be quite interested in seeing how well can LG accomplish that.
There's even a leak video that shows the functionality, and we must say it looks pretty impressive, at least in the first look.


Coming back to the screens, smartphones with screens more than 5-inch have been generally criticized for being too bulky to be held in the average person's palm, but LG Display maintains that its 5.2-inch panel features better "grip-ability," as the screen will be just 2.2mm thin.
The state-of-the-art 5.2-inch panel is an exciting advancement for the premium mobile device market enabling sleeker Full HD smartphones featuring and a superior viewing experience, LG Display said in a statement.
Only 2.2mm thin with a 2.3mm bezel, LG Display's new panel is both slimmest and narrowest among existing Full HD LCD panels designed for mobile devices.
"Today's introduction of the world's slimmest Full HD LCD panel represents an exciting advancement for the high-end smartphone segment, and is possible due to our world-class expertise in IPS and touch technologies," said Dr. Byeong-Koo Kim, Vice President and Head of LG Display's IT and Mobile Development Group.
"LG Display will continue its commitment to developing products that maximise consumer value as well as opening new doors for the mobile and tablet PC industry," he added.
This world's slimmest Full HD LCD panel will provide larger visible display space on smartphones, critical as mobile devices are used for multimedia viewing more than ever before. Additionally, the panel will make devices easier to grip as well as lighter in weight.
Key to realizing the world's slimmest panel is LG Display's Advanced One-Glass-Solution (OGS), the latest touch technology enabling an enhanced touch screen experience, developed and applied to the new panel for the first time ever.
Dual Flexible Printed Circuits, superior to a single circuit, have been inserted between the panel and touch film, reducing the number of lines on the panel by more than 30 percent. Utilization of a direct bonding system has also resulted in Optical Clear Resin between the panel and touch film for greater brightness.
The new panel's superiority in displaying resolution, brightness, and contrast ratio results in enhanced outdoor readability. By utilizing 1,080X1,920 pixels consisting of Red, Green, Blue (RGB) sub-pixels, the panel is a true Full HD display.
And with a brightness of 535 nits at maximum, LG Display claims its panel outperforms all current mobile Full HD LCD panels. It adds that measuring contrast in real-life surroundings with Ambient Contrast Ratio results in a reading of 3.74:1 based on 10,000 lux, confirming the perfect performance of the panel even in strong outdoor sunlight conditions.
ALSO READ:

Phantom Black Platinum iPhone 5 now in Dubai, for just Dh11,000



Samsung Galaxy S4 catches fire while charging



iPhone-maker found guilty, vows to fight back
Follow Emirates 24|7 on Google News.