Kazakhstan announces participation in Expo 2020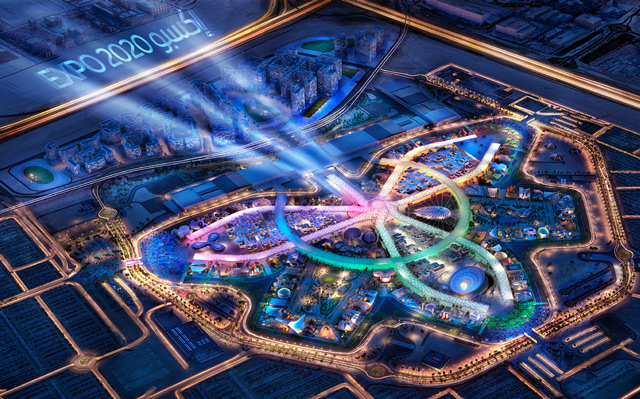 The Republic of Kazakhstan has confirmed it will be participating in Expo 2020 Dubai. The announcement comes just weeks before the Central Asian nation hosts its own Expo in the capital city, Astana.
Kazakhstan is the latest country to publically confirm it will have a pavilion at the first World Expo in the Middle East, Africa and South Asia region. In total, 180 countries are expected to take part.
Through its theme, 'Connecting Minds, Creating the Future', Expo 2020 Dubai will be a platform to foster creativity, innovation and collaboration that gives people a glimpse into the future, guided by its three pillars: Opportunity, Mobility and Sustainability.
Khairat Lama Sharif, Ambassador of The Republic of Kazakhstan to the UAE, delivered a letter from Bakytzhan Sagintayev, Prime Minister of The Republic of Kazakhstan, confirming the nation's official participation in Expo 2020 Dubai, to His Highness Sheikh Ahmed bin Saeed Al Maktoum, Chairman of the Expo 2020 Dubai Higher Committee.
Kazakhstan's own Expo, Astana EXPO-2017, with the theme of 'Future Energy', opens its doors on 10th June. The UAE is one of the nations taking part, formally announcing its participation more than two years ago, and will have the largest pavilion. The UAE was the first Arab country to confirm participation and aims to help Kazakhstan achieve its long-term goals by taking part.
Reem Al Hashimy, UAE Minister of State for International Cooperation and Director General of the Dubai Expo 2020 Bureau, said, "Kazakhstan's participation in Expo 2020 Dubai builds on the strong relations between our two countries that date back more than 25 years and also witnesses yet another important window opening for Expo 2020 Dubai.
"Kazakhstan is a thriving country with a lot of successful institutions, both in the public and private sectors, that are drawn to the opportunities Expo 2020 will present in terms of innovation and culture.
"We would like to welcome Kazakhstan as it joins us on our journey to 2020 and beyond."
The theme of Astana echoes that of Expo 2020 Dubai and also reflects the ongoing co-operation between the countries in fields such as electric power, renewable energy and green economy.
Prime Minister Sagintayev said, "The UAE and Kazakhstan share strong relations that are founded on a spirit of mutual understanding and respect, and a common willingness to promote these relations. We also share a vision for a cleaner future, powered by renewable energy, as demonstrated by the themes of our respective Expos.
"The experience we will gain from hosting a global event of the scale of Astana EXPO-2017 will be invaluable for our participation in 2020. "We look forward to both Expos being inspirational and unforgettable experiences for people around the world."
The ties between the UAE and Kazakhstan go deeper than Expos, as it is estimated that between 5,000 and 6,000 people from Kazakhstan live in the UAE.
Kazakhstan has also been an important trading partner for the UAE for a quarter of a century. Bilateral non-oil trade has grown substantially in recent years, reaching nearly US$185 million in 2015.
Meanwhile, UAE investments in Kazakhstan grew to US$2 billion between 2005 and the first quarter of 2016, with about 200 Emirati companies operating in the country. Aldar Properties, for example, is building Abu Dhabi Plaza in Astana, Kazakhstan. The mixed-use development will be the largest tower block in Central Asia when completed.
The two nations are also keen to strengthen ties in a number of areas, including trade and investment, energy, mining, infrastructure, transportation, logistics, agriculture and food security. Like the UAE, Kazakhstan has laid out plans to diversify its economy away from oil.
Kazakhstan and the UAE also share close diplomatic ties, establishing diplomatic relations on 1st October 1992. In October 2005, the UAE opened an embassy in Astana. Less than a year later, in September 2006, Kazakhstan opened its embassy in the UAE.
In January, His Highness Sheikh Mohamed bin Zayed Al Nahyan, Crown Prince of Abu Dhabi and Deputy Supreme Commander of the UAE Armed Forces, and Nursultan Nazarbayev, President of The Republic of Kazakhstan, held talks during the president's official visit to the UAE. President Nazarbayev also visited Abu Dhabi Sustainability Week, which this year was held under the theme, 'Practical Steps Towards a Sustainable Future'.
Last month, President Nazarbayev conferred the Jubilee Order and Medal on His Highness Sheikh Abdullah bin Zayed Al Nahyan, the UAE Minister of Foreign Affairs and International Cooperation, in recognition of his efforts to strengthen relations between the two countries, as part of the 25th anniversary of Kazakhstan's independence.
In announcing its participation in Expo 2020 Dubai, Kazakhstan joins many other countries from around the world to have publically confirmed they will take part in the event. More national participation announcements are expected in the coming months.
Follow Emirates 24|7 on Google News.