Lease a three-bed unit in Dubai for Dh87,000 a year... where?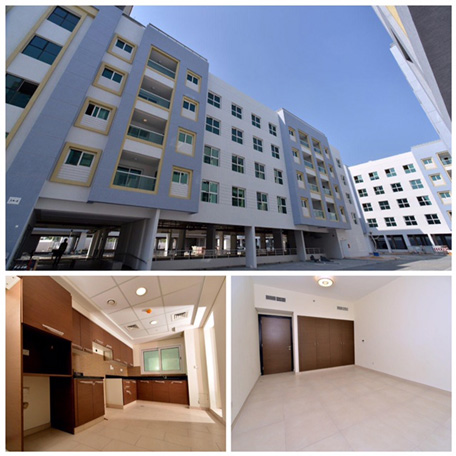 The residential leasing market is becoming competitive with companies sweeting deals to attract renters.

In the leasehold market segment, wasl Properties, a Dubai government entity, has released apartments to fit in the affordable rental range with three-bed units starting Dh87,000 per annum (pa) in Muhaisnah4.

These units are part of the new phase of wasl oasis II, a gated community close to Lulu Village. Rents for studio units start at Dh44,999 per year.
"wasl oasis II has been designed to enhance the lifestyle of mid-income residents by bringing to the area high quality residential units that provide the very best in contemporary urban living. The project was conceived to help re-invigorate an established area that is already popular with residents, with the ultimate aim being to re-assert the status of this important part of the city," said Zainab Mohammed, CEO Property Management and Marketing, wasl properties.
The project is made up of 23 buildings with a total of 1,244 residential units; comprising a total of 48 studios, 636 one-bedroom apartments, 432 two-bedroom apartments and 128 three-bedroom apartments.

In comparison, Land Sterling's first quarter 2016 report puts the cheapest option for a three-bedroom apartment in freehold communities to be in International City where average annual rent is Dh90,000 pa.

The second lowest area is Dubailand, where the average annual rent is Dh110,000 pa followed by International Media Production Zone (Dh115,000 pa) and Dubai Silicon Oasis (Dh125,000 pa).
Last month, Reidin.com Data & Research Manager – UAE Ozan Demir told Emirates 24|7 that rents in Dubai slipped close to one per cent month-on-month (m-o-m) in February 2016.
"Residential rent index decreased by 0.93 per cent, reflecting softening continues albeit at a lower rate," he said.
In January 2016, rental decline stood at 1.57 per cent with apartment rentals down 1.67 per cent m-o-m, while villa lease rate fell 0.98 per cent m-o-m.
Average residential rents across the emirate fell by 5 per cent in 2015 but residents have complained of rent increases.
As on the supply front, global consultancy JLL expects 26,000 new units to be delivered this year, but believes only 10,000 to 12,000 units would be delivered.
Follow Emirates 24|7 on Google News.