Live under water in Dubai: Rent a home @ Dh25,000 per day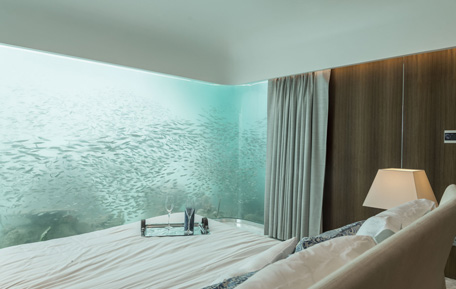 Though half of the owners of the 100 floating seahorses (floating homes) in The Heart of Europe (THOE) project on The World islands will be keeping them for their own use, the rest are available for rent.
But it will not be cheap if you don't book it during the soft launch in October 2016, you could save 150 per cent on rent.
The lease rate during the soft launch will be Dh10,000 a day, but will eventually rise to Dh25,000 a day.
"The soft launch of the floating seahorse on the heart-shape St Petersburg isle will be this October and we will be offering it for rent for Dh10,000 a day. Eventually, the rate will go up to Dh25,000 a day," Kleindienst Group Chairman Josef Kleindienst told Emirates 24|7.
Each of the floating seahorses will have their own butler as well.
"We will have 131 butlers as we have 131 seahorses," he added.
The floating home is a marine style retreat (a boat without propulsion) and will have three levels: one underwater, one at sea level and an upper deck.
The master bedroom and bathroom will be totally submerged underwater, while the sea level accommodation will have floor to ceiling windows, a fully-fitted kitchen with a dining area and an open plan living area.
The upper deck will feature an informal bed, a mini bar, a kitchenette and a glass-bottomed jacuzzi. The deck could be converted into a winter bedroom, which can be enclosed with retractable drapes.
THOE comprises six islands: Sweden, Germany, Main Europe, Switzerland, St Petersburg and Monaco. It will have snow and rain-filled streets and a heart-shape island.

"St Petersburg Island has now been re-designed into the shape of a heart, taking inspiration from The Maldives and some of the world's finest holiday resorts," Kleindienst had told Emirates 24|7.
Follow Emirates 24|7 on Google News.